Is your year off to a good start? Settling in with a new class can take some time, but there are steps you can take to get off to a good start. Be proactive with setting expectations, modeling and practicing routines and expected behavior, and in implementing behavior management systems. 
New teachers especially may struggle as they may not have a behavior management plan or have an array of behavior management strategies to use. Even experienced teachers can run into trouble or find they need new tools as they get used to new students and a new class dynamic. 
Your behavior management plan starts with you
If you're at the beginning of the year, it is a great time to set up behavior management systems that keep your classroom a positive and caring learning environment for everyone. Students need to feel safe and they need a place where they can learn. 
Having students who are running around the room, being excessively loud, threatening or bothering other students, or otherwise disrupting activities means things aren't working for anyone. Be proactive to set up the learning environment when you want. Use your behavior management system to help you create and maintain that environment. 
The first part of your behavior management plan starts with you. Before you give up in frustration or respond in anger or jump from system to system hoping something, anything will transform your classroom, start with a self-evaluation. 
Some of the questions I ask:
Do you know all of your students' names, both first and last names?

Do you use student names when talking with them?

Do you have classroom rules written positively?

Do you make expectations clear to students? 

Do you set limits and apply them fairly and consistently?

Do you analyze misbehavior to seek out causes?
Self-evaluation can help you see where there are gaps in your behavior management plan. For example, if rules or expectations are unclear, it is hard to hold students to them. 
It's easy to be frustrated or angry when a student misbehaves, but what happens if you look at the cause? Yes, you can still follow through with any consequences or follow up procedures for breaking a rule, but you can also start to address reasons for behavior to help avoid them in the future. 
Get a behavior management self-evaluation and step by step plan here, free:
FREE Behavior Management Tips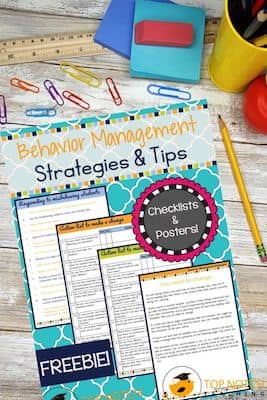 Subscribe to our newsletter to receive regular teaching tips and updates & get instant access to the free behavior management PDF:
After you've looked at your classroom set up and how you relate and respond to students, it's time to take action on any areas you can change. It might be time to write classroom rules or rephrase them positively. It might be time to review those rules, maybe at the morning meeting. Or maybe you realized you never check-in to see if your instructions are clear or that you don't get the attention of the class before you start teaching. Start by changing your own proactive behavior and see how it affects your class. 
How to use your behavior management plan to respond to misbehavior
Then what? Even if you are doing all the right things, you will have students misbehave. How do you respond? 
Start by controlling your anger. If your first instinct is to yell, take a breath. Count to five. Start by saying the student's name. Sometimes letting the student know you see it will interrupt and stop it. Try stepping a little closer and talking quietly. You may be able to use humor to diffuse the situation. If you find it hard to use humor or if students take humor as encouragement to be silly, try a different technique. 
Remind the student about classroom rules. Instead of pointing out the bad behavior, point out how somebody is following the rule. Ask the student to follow the rule in simple, minimal language. If students have challenging behaviors, have a plan in place. This might include offering choices or a buddy classroom. 
All of this should happen calmly and non-punitively. It's not easy, but being proactive, having steps in place can help you deal with challenging situations with students better. Don't beat yourself up if you didn't respond to a situation ideally, but take some time at the end of the day to assess what you did that worked and what you could have done better. 
Classroom management plans help us be prepared for misbehavior, and we get more confident with more practice. Remind yourself to curb anger, be proactive, and aim to make a positive learning environment for all your students. 
Classroom management tools and more
Classroom management is critical as a teacher, and I admit when I started I struggled. Having lots of tools in your teacher toolkit helps a lot. In addition to classroom management tools, having resources that help vary lessons and feel less stressed help on many levels in the classroom. 
I've put together classroom management tools, planning and organizational resources, lesson plans, and done for you worksheets, activities, and games … and I keep adding to it. You'll find all this in the Top Notch Teaching Members Club. Join, and for one, low monthly fee, you'll have a host of teaching resources at your fingertips, ready to download and use. Teaching just got easier — join here: https://topnotchteaching.com/members/
FREE Behavior Management Tips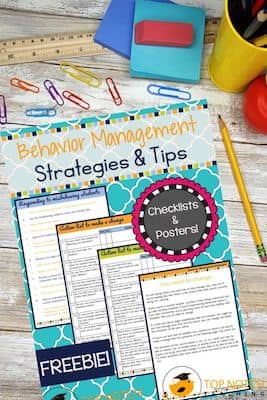 Subscribe to our newsletter to receive regular teaching tips and updates & get instant access to the free behavior management PDF: