Classroom behavior management can be one of the most challenging parts of being a teacher, and one we don't talk about enough. Classroom management tools are as essential to learning as reading strategies or tools for teaching math (in fact, having a wide repertoire of teaching tools is part of classroom behavior management). 
Why is classroom management so important? Students need to feel safe and be in an environment conducive to concentrating, trying new things, and learning. A positive learning environment is not a given—that's why you need classroom behavior management tools. Every student and class is different, so having a broad set of classroom management tools is a plus!
Favorite classroom management tips
Things won't always run smoothly, but having good systems and tools in place can make a difference in keeping things mostly running well, getting you through rough patches, and getting back on track if you get off. Here are some of the classroom management tips that have served me well over years of teaching!
1. Set expectations early
The beginning of the year is a good time to establish expectations. Take time to model expected behavior. Talk as a class about how to treat each other.
2. Have clear rules and consequences
If students don't know how they are to behave or what they can and can't do, they can't be expected to follow rules. Make sure rules are clear. You can even post them in the classroom. As part of sharing rules, also share consequences for breaking them. Then be fair and consistent in enforcing rules.
3. Involve students in creating classroom rules
When students take part in rule creation, they are often more accepting of the rules and have a clearer understanding of what they mean. Talk about both rights and responsibilities when you create your rules. Helps students think of the classroom as a place of belonging.
4. Keep it positive
Instead of a list of rules like "Don't be mean," try "Be kind and respectful to others." Use positive language throughout the day, not just in rules. Find some ideas in the Positive Language Poster that can help you and your students keep it positive:
FREE Positive Language Poster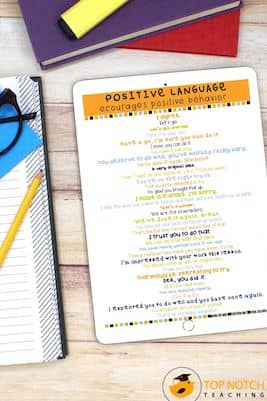 Subscribe to our newsletter to receive regular teaching tips and updates & get instant access to the free positive language PDF:
5. Use all your teaching tools
Different lesson styles, different pacing, different ways for students to respond … These are just some of the things that can affect student behavior. Try mixing it up, pulling in different kinds of lessons or activities if students aren't engaged or get frustrated or bored.
6. Model and notice desirable behaviors
Demonstrate how to store materials neatly. Point out what a reasonable volume in the classroom is when your or another student is talking, when people are working independently, and when people are working in pairs or groups. Show students the behavior you want. Then catch them doing it. "You were all nice and quiet when you came in this morning" or "Wow! All the art supplies are put away in the right place—nice job!" This reinforces the behavior you want to see and keeps it positive.
7. Start with low key responses
Sometimes an early, low key response can diffuse a situation or slow a student who is starting an undesirable behavior. I start with "the look." It lets students know I see what they are doing and is a non-verbal check on their behavior. If that doesn't work, sometimes just moving near the student will create a change. For example, I might stand between two desks where one student is trying to distract another. Use a signal to refocus the whole class. This can be useful if the whole class is starting too loud or silly and can also redirect one student without singling them out. Try teaching students that when you hold up a hand, they should get quiet, look at you, and do the same. I've also used a specific clapping pattern to the same effect. Move to consequences when you need to, but if you can re-establish desired behavior with low key responses, even better.
8. Teach routines and procedures
Your classroom will function more smoothly when students know what to do in situations like entering the classroom at the beginning of the day, getting ready for lunch or recess, moving between tasks in class for just a few. Think through these parts of your day and take time to teach students what to do. Model it and let students try it.
9. Evaluate when things go wrong
When you have an incident in your classroom or you feel you didn't handle something well, take time afterward to review what happened. Should you have given a consequence earlier? Did you get too upset? What caused the student to misbehave—was there a sign they were getting frustrated or overwhelmed? When you evaluate and reflect, you gain information that can help you next time.
10. Improve your tools, reduce your stress
The more tools you have, whether specific classroom behavior management tools or other teaching tools, the better off you are. Save time, reduce your stress, and pick up all kinds of resources from classroom management tools to math games to phonics homework to science lessons … and so much more. The Top Notch Teaching Members Club is your go-to place for fab teaching resources. You can find all the details and join, right here: https://topnotchteaching.com/members/
Your classroom will never be perfect, but there is so much you can do to create and maintain a safe, positive learning environment for your students and to make it a place where you all feel like part of the community.
FREE Positive Language Poster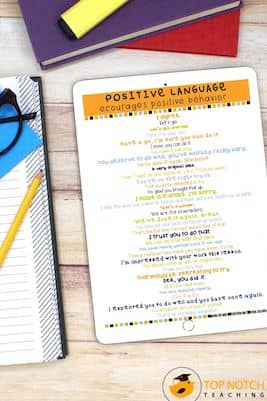 Subscribe to our newsletter to receive regular teaching tips and updates & get instant access to the free positive language PDF: