I'm a fan of anything you can use that makes life easier. Today I'm sharing some of my favorite classroom tools with you. I'm not saying I couldn't teach without them, but they sure make things easier.
Disclaimer: Some of the links below are affiliate links, which means that if you choose to make a purchase, I will earn a commission. This commission comes at no additional cost to you. As an Amazon Associate I earn from qualifying purchases.
Classroom tools to add to your list
1. Laminator
A laminator comes in so handy. Even if your school has one, I find that sometimes it's broken or busy … or I realize at the last minute that I need to laminate a few sheets. I laminate posters for longevity. I laminate worksheets or directions that stay in my literacy or math stations. You can even write on a laminated sheet with a whiteboard marker.

My laminator is a workhorse. I've had it so long I don't remember where I got it, but I love that it does both regular size paper and larger paper, so I can laminate posters. Stock up on laminating pouches when you order your laminator.
Click here to see some of the best seller laminators and the latest prices from Amazon.
2. Mini whiteboards
Mini whiteboards are one of the classroom tools I use regularly. I use them frequently in spelling games, and they can come in handy for math too! My students love using them — and it's so easy for them to make changes.

If you have a few mini whiteboards, use them in tutoring sessions or for small group work, but it's great to have enough for every student. Students can hold up their whiteboards and you can scan responses easily. (They even make handled [easyazon_link identifier="B00WUKM25E" locale="US" tag="topnottea-20″]answer paddle whiteboards[/easyazon_link], but I think the regular rectangular ones are better for more uses.) I use ones similar to [easyazon_link identifier="B06VVBW9BQ" locale="US" tag="topnottea-20″]these[/easyazon_link]. And don't forget plenty of whiteboard pens!
3. Erin Condren planning tools
It's no secret that I love my Erin Condren planner. I use the Life Planner, but she also has a teacher's planner. It depends on what your needs are. While you're looking at the planners, take a look at the Dashboards (to do lists or tracking sheets that snap into your planner) and planning pads—like the Substitute Teacher notepad!

4. Label maker
Labels help kids find things — and know where to put them back. I label everything. I've been using [easyazon_link identifier="B000II09IM" locale="US" tag="topnottea-20″]this label maker[/easyazon_link] for years, and I love it. I recommend ordering batteries and some extra labeling tape at the same time so you are covered for a while.
5. Binding machine
My binding machine makes it easy to create books and bundles — for myself and my students. I love getting organized and sometimes binding papers makes more sense than putting it in a binder. I reviewed these classroom tools here: Classroom Tools: Why You Need a Binding Machine.
6. Stickers
Stickers are such a simple classroom tool. You almost can't call it a tool, but they are so useful. Use stickers to differentiate groups or levels. Hand out stickers as motivators to a student or group who did a great job or worked very hard or add them to papers you return. Use stickers on sticker charts for behavior, skills learned or activities completed. Let kids use stickers to create graphs or to decorate projects. There are so many stickers out there for all occasions and purposes. Get a mix of sizes and images.

And I'll admit … stickers aren't just for my students! I love some of Erin Condren's stickers to beautify my planner and other notebooks.

7. Timer
I'll admit, I often use the timer on my phone or iPad, but I've found it handy to have a [easyazon_link identifier="B07BK7VF7F" locale="US" tag="topnottea-20″]simple battery operated timer[/easyazon_link] as well. I can set a timer for one student or a group and leave the timer with them at their desk, table, or station. I can set multiple timers at once if I need to. It's not strictly essential if you do have timers on other devices, but for the cost, it comes in handy.
Those are some of the classroom tools I rely on to make life easier. If it's activities, worksheets, and games you're after to make teaching easier, I've got you covered here.
What classroom tools make your life easier?
FREE Behavior Management Tips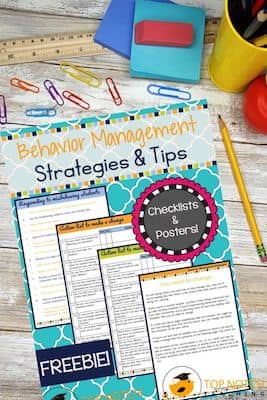 Subscribe to our newsletter to receive regular teaching tips and updates & get instant access to the free behavior management PDF: