Welcome to our class! Classroom decor's first task is to create a welcoming environment. It's a way to make your space your own and set a tone for your class. But it goes beyond that. Simple classroom decoration ideas can provide inspiration and motivate students. And classroom decor can help enhance learning, too. 
For example, posters and charts can help students remember multiplication or different spellings of certain sounds. You can use a variety of posters, maps, and other materials to create a print-rich environment. You can even have students contribute to the decor with posters, signs, and diagrams they create to demonstrate what they've learned. 
Enhance classroom decoration and establish positivity and kindness in your classroom with a FREE Positive Language Poster: 
FREE Positive Language Poster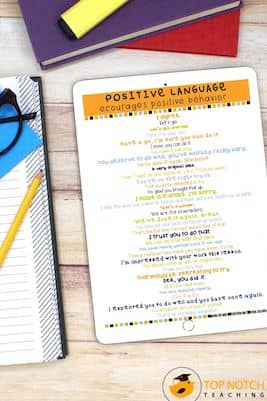 Subscribe to our newsletter to receive regular teaching tips and updates & get instant access to the free positive language PDF:
4 simple classroom decoration ideas that don't cost a lot
Making your room a welcoming learning mecca doesn't have to be expensive or time consuming. You can even swap out some items seasonally or when you start a new unit to keep things fresh. 
Here are a few ways to keep it simple and keep costs down.
1. Print your own posters. 
Printable classroom decor is a great way to fill a bunch of needs. From inspiration to learning, digital posters that you print yourself have a lot to offer. 
Create phonics word walls and math corners. You can include word posters, alphabet charts, 100s charts, or multiplication tables. 
Put calendars, charts, and other items you use for morning meeting in your circle area. With classroom decoration printables, you can have job charts that are decorative and purposeful. You can even swap them out by season or holidays, for example using spring job charts or Halloween job charts depending on the season. 
You can post inspirational posters anywhere. Try these Classroom Quote Posters. These print your own posters are colorful and inspirational! 
2. Shop sales and clearance items. 
Try shopping right after holidays to get items and drastically reduced costs for the next season. Keep an eye on the clearance aisle of learning stores, craft stores, office stores, and other places that might have signs, posters, letters or numbers, calendars, etc. 
You can also keep an eye out for materials related to themes you might want to use: space, dinosaurs, seasons … whatever it is, some thematic materials can help pull your room together. For example, a disposable table cloth with outer space images could go on the table under a project or get used as the background for a bulletin board. 
3. Use student created materials.
As I mentioned earlier, you can use student created materials for decor. Here are some different ways to incorporate students materials:
Make a gallery of student artwork on a particular theme. 

Have students create posters to reinforce classroom rules and expectations. 

Use students' Word of the Week posters on your word wall. 

Post illustrations students make to accompany a writing or reading project. 

Create a display area to share student projects. 
4. Tag sales or buy nothing groups.
You might find wall art or posters from people trying to get rid of stuff from their home. Look for materials in good condition. You might find maps, nature photographs, or art posters that might help brighten up your room.
Make the most of low cost materials, including printable classroom decor,  to make your classroom welcoming and engaging.
FREE Positive Language Poster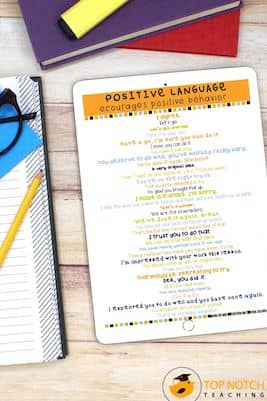 Subscribe to our newsletter to receive regular teaching tips and updates & get instant access to the free positive language PDF: