Do you ever feel like nobody's listening to you or that you just lost your class? Maybe you notice one or two students zoning out and then a few more. How do you get kids back once they've tuned out … or even better, how do you catch them before they tune out? You need student engagement strategies. 
One of the best things you can do is pay attention and read your class. If you sense attention starting to wane or energy ramping up, it might be time to shift gears. That might look like some quick motion to get the wiggles out. It might look like moving from you giving information to students doing something. If you think, but I have more to tell them, maybe you can break that up. Share some information and instructions, get students learning by doing, and then share the next step. 
If you're reading the room, you'll know when engagement is slipping. Let's talk about how to motivate and inspire your kids.
Student engagement strategies to use anytime 
Keeping your students motivated and engaged is essential to their learning, so it's good to have tools in your teacher tool kit to help do just that. We're not talking about turning on a movie or throwing a play day. We're talking about ways to inspire and connect with kids. We're talking about ways to get and keep them interested in learning. Let's jump in!
1. Get moving
Movement can be used to expend pent up energy to allow students to focus better. It can also be used to get the blood flowing and bring energy up if students seem sleepy. Movement can be for the purpose of shifting energy. For example, try a one song dance party or standing up and following you or a student leader in a brief, quick-paced pattern of clapping and foot stomping.

You can also work movement into the learning. Set up stations and have students rotate between them. Give each student a number or math expression, and have them find a partner that has the same meaning (3+3 could pair with 6 or 4+2). Give each student on a team one step in an activity and have the move until the sequence is in the correct order. Ask questions or take a poll, but have students move from one side of the room to the other to express their response or opinion. 
2. Connect to the real world
Learning shouldn't feel like something that is just for school. Helping students see the ways they learn out of school — and helping them connect what they are learning in school to their world can help them engage with the material. Here are a few ideas:
Practice fractions by halving a recipe. 

Go on a word safari — when you introduce a new word, ask students to look and listen for it. Where does it show up in their world? 

After a read aloud, ask: When have you experienced ___ ? Or what parts of the story remind you of something you know? Or How would you handle __ situation? 

Invite experts in fields you are studying to class to share or answer questions. For example, have a beekeeper demonstrate what they do and talk about the life cycle of bees or talk about sustainability in your community and bring planners in to answer questions about what that looks like in their project. 

Make a presentation for school or community officials about an area of class concern. 
3. Use a brain warm up or brain breaks
Brain warm ups get kids ready to learn. Brain breaks are just what they sound like. A break. None of us can focus non-stop for hours. Brain breaks give students a chance to use their brain in a different way to help assimilate what they've learned and refocus before another round of focused learning. Brain breaks often include simple movement, but they also have students using brains in a different way (moving in one direction than another, following simple patterns, etc.) 
4. Build kids up with positive language
Do your students ever get down on themselves or others? One way to help motivate students is to help them see the positive. Positive language can move students toward trying new things, working hard, and accepting mistakes or things that didn't work out as part of the process. Use positive language throughout the day and remind students of positive phrases they can use too!

Post the free Positive Language Poster in your classroom. It's full of motivational quotes for kids: 
FREE Positive Language Poster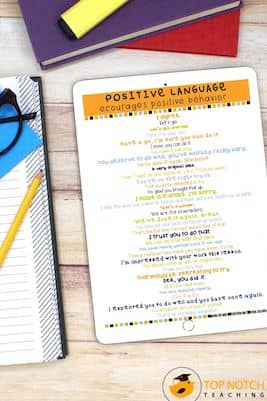 Subscribe to our newsletter to receive regular teaching tips and updates & get instant access to the free positive language PDF:
5. Tap into student interests
Do you need students to learn certain things? Sure. Can you also bring in student interests? Yes! One obvious way to use this as a student engagement strategy is letting students choose their own topic for a research project. Beyond that, you can let students present any information in different formats. A student who loves art might rather make a poster or comic book to show what they learned. A student who is passionate about animals might kick off a unit on animal adaptation with some fun facts. Get to know your students and what they care about. How can you work those interests in? What opportunities can you give them to work with their interests, whether subject matter or how they learn/share. 
6. Give your students voices and choices
One way to keep students engaged is to check in with them. Are they confused? Bored? Lost? Ready to move on? Some of this may come from reading the room. Some can come as a direct question. Ask: What questions do you have? You can ask this at the beginning of a lesson and students can seek the answers. You can ask it at the end to see what wasn't clear. 
In addition to giving them voices, give them choices. This could be giving them different activity options to practice what they are learning. For example, they could play a game in the math station, complete worksheets, or set up a demonstration of a skill or bit of learning. 
7. Get into games
Kids love games—board games, card games, dice games, read and write games  … You can't play games all the time, but they have a place in your classroom. One great thing about games is that you can play games in small groups or as a class. Games can bring in competition, but when played as a team, they can bring in collaboration too. Plus, you can use games for any subject! 
Motivating students and keeping their interest can be tricky, but you're up to it. Plus you have some new tricks up your sleeve. If you want more choices for your students, more classroom quote posters, and more games, you don't have to reinvent the wheel. You can find all of this in the Top Notch Teaching Members Club. 
The members club includes done for you teaching resources including math and literacy games, activity sheets, and homework, physical education lesson plans, classroom management tools. You'll even find exclusive items only available to members, like our Classroom Quote Posters to help motivate your students with positive language!
For a library of activities that are ready to print and go right at your fingertips — including exclusive resources you won't find anywhere else — start your membership today: https://topnotchteaching.com/members/
FREE Positive Language Poster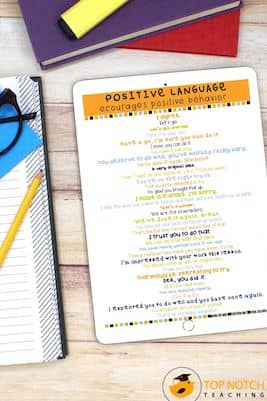 Subscribe to our newsletter to receive regular teaching tips and updates & get instant access to the free positive language PDF: