Teaching is not for the faint of heart. We teachers need to be prepared for so many situations. And just as you'd pack a survival kit for a daunting expedition or catastrophe, you'll want a teacher survival kit for your classroom. 
If you don't have a teacher survival kit, you can build your own. Teacher survival kits make a great gift for colleagues for back to school — or to a new teacher just starting out!
Here are 7 teacher survival kit ideas to help you create a top notch teacher survival kit. 
Some of the links below are affiliate links, which means that if you choose to make a purchase, I will earn a commission. This commission comes at no additional cost to you. As an Amazon Associate, I earn from qualifying purchases.
What goes in a teacher survival kit? 
You can make a mini teacher survival kit in a pencil pouch, but I find there are more and larger items I like to include. You can pack everything you need into a large bag or rolling bin … or you can collect your kit and store the different pieces as needed in your classroom. 
1. Snacks & drinks
I'm pretty sure I'm not the only one who works through lunch sometimes. Having easy to eat snacks—granola bars, a little chocolate, pretzels, fruit or applesauce cups, soup or something else shelf-stable you can heat up quickly—can get you through the day. Nuts can be great to give you a little protein, if they are allowed in your school/classroom. 
In addition, I love having a water bottle to keep me hydrated throughout the day and a travel mug to keep my coffee or tea warm a little longer. My own stash of tea bags or K-cups for coffee are in my teacher survival kit too. 
It never hurts to have a bowl, plate, and some utensils handy too. 

2. Cleaning supplies
No matter how well classrooms are cleaned, you'll need to clean up after projects, snacks, and other messy moments. You'll want to sanitize high touch surfaces. Every teacher survival kit should include cleaning supplies like Clorox or Lysol wipes and paper towels. Even if your school supplies some, having your own stash will come in handy (trust me). 
3. Personal care
There's a lot that falls in this category. I include: 
4. Duct tape
I know teachers who have a small tool box handy with a hammer, screwdrivers, a wrench, for quick fixes in the classroom. If that's not your speed, at least keep some duct tape and masking tape handy. You can repair a lot with those. 
5. Classroom supplies
This list could go on and on, but I like to think of things that tend to run out, get used up, or go missing, like: 
Regular markers

Batteries (in sizes any equipment uses) 
6. Change of clothes
Have you ever had a kid puke on you in the morning? Or gotten sprayed with water from the sink (I'm not saying a student did it deliberately)? Or spilled a cup of coffee down your front right before a parent meeting? More than once, I've been glad to have a fresh outfit to put on. Have something you don't mind not being in your regular rotation, but something you'd be willing to put on in a pinch.

If your room tends to be cool or fluctuate in temp, a sweater can help you regulate. 
Pro tip: As seasons change, check to make sure what you have in your kit is weather appropriate. Put a reminder in your calendar now. 
7. Anything that makes life easier
All of these things are meant to help you through the day to day in the classroom, including the expected and unexpected. Here's one more thing to add to your teacher survival kit—done for you resources. Imagine not having to recreate the wheel or start from scratch when you need new phonics homework or math games. Imagine being able to print and go. I definitely want that in my teacher survival kit, and you can get it here: Top Notch Teaching Members Club. If you only add one thing to your survival kit, this might be it. 
Looking for more support to help you survive teaching? Join us in the Top Notch Teaching Facebook Community. 
What's a must have in your teacher survival kit? 
FREE Teacher Stress Poster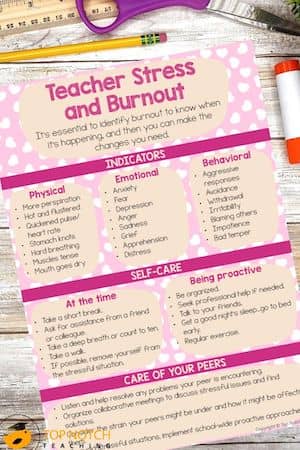 Subscribe to our newsletter to receive regular teaching tips and updates & get instant access to the free PDF: