Are you ready for back to school? Here in Australia, it's time to start up again, but even if you've been back or think of Back to School in September or another part of the year, a lot of back to school activities serve well after any break (and some back to school activities, like brain breaks, are a great addition to your classroom throughout the year!)
5 back to school activities for the first week
Think of the first week as a transition time and a set up time. Use these first weeks of school activities to help students get used to being in the classroom and get to know everyone a little better. 
1. Create a classroom community
Back to school is the best time to really establish a classroom community. Work together to create classroom rules. Set up expectations for how you treat each other in the classroom community. Talk about what it means to be a good friend. Throughout the first week, look for opportunities to notice students being a good friend, following class rules, or being a good community member. 
In addition, take some time to teach routines. Teach, model, and practice how you do things and expected behavior for:
Leaving and entering the room (this could be at the beginning or end of the day or when students or the class move to another part of the school)

Lining up and walking in a line

Working during whole class lessons, independent work time, and when in centers with a small group

Showing that they have a question or want to respond
Think through your day. You don't have to teach everything the first week, but it's a good idea to tackle the activities that occur the most. 
Introducing class jobs is another great first week of school activity. Class jobs give students responsibilities as part of your community. Demonstrate each job as it comes up. Explain to students when and how jobs will change. 
2. Get to know each other
Back to school activities often include getting to know you ideas, and for good reason. You want to start to get to know all of your students as soon as possible, and you want students to get to know each other. Here are a couple of back to school activities that help you all get to know each other. 
Introductions. Sit in a circle. Have each person say their name and one thing about themselves. You can ask a question if students get stuck. What kind of pet do you have or what kind of pet would you like? What is your favorite thing to do when you aren't at school? What is one thing you are wondering about this year?

Greetings. Greet the student on your right by name. (Good morning, Rowan!) Have them greet you back, using your name, and then greet the person on their right (Good morning, Ms. Crean. Good morning, Robin.) Continue that way around the circle. You can also play a game passing balls across the circle, but again, use names. For example, Maddie sending to Louis. 
Play Class Bingo. Create a bingo sheet with things that may be true for somebody in your class. For example, has an older sibling, has a pet, plays a musical instrument, likes sports, walks to school … Give each student a copy of the bingo sheet on a clipboard. Have them talk to their classmates to find a person to fill each square. When several students have completed their bingo sheets, bring the class back together. Have each student share one thing they learned about a classmate. 
Self-portrait. Have students create a self-portrait as a first week of school activity. Start with a worksheet that asks them questions about who they are, what they have (can be things, parts of their family, pets), what they can do. Have them draw a picture of themselves with objects or activities related to items from their worksheet.

3. Share about break
Give students a chance to share about their break. Students can journal about this, fill out a back to school worksheet about summer break, write a story, or create another presentation. For something beyond the classic "what I did on my summer break" essay, try having students: create a comic strip or graphic novel about their experience, write a song, or make a guessing game about what they did. You can even make this another getting to know you activity. Have students talk in pairs or small groups about break. 
4. Add in brain breaks
Students are getting used to being in school again. They are likely getting used to sitting still and concentrating for longer stretchings of time. I encourage the use of brain breaks all through the year to keep students fresh and focused, but I consider brain breaks an essential first week of school activity. Check out a refresh on brain breaks? Try 3 Easy Brain Breaks for the Classroom. 
5. Play games
The first week of school has a lot of setting up expectations and rules, getting to know you, and sharing, but there's also still a lot of learning. Try bringing in games as first week of school activities. Math games and phonics games are a great way to review concepts that may have gotten fuzzy over break and to introduce new topics. 
Back to school is a busy and exciting time that can set the tone for the year. I hope you get off to a great start! To that end, here are some FREE back to school activities to help you out. 
Back To School Activities FREE Sample
FREE Back To School Activities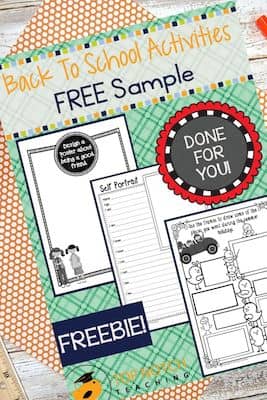 Subscribe to our newsletter to receive regular teaching tips and updates & get instant access to the Back to School Activities PDF:
And if you want even more first week of school activities to start off the year right, the Back To School Activities and Games Bundle has you covered. It includes a lot of the first week of school activities we just talked about:
Summer Reflection Activities

Get to Know You Activities

Classroom Games and Brain Breaks

Classroom Jobs

Math Games and Activities

Punctuation Posters

Phonics Games

Physical Education Lessons and Activities 
Get yours here and get ready for an amazing year: https://topnotchteaching.com/downloads/back-to-school-activities/