Before you jump into traditional teaching methods for back to school, consider gamification. Gamifying your classroom is a great way to motivate students, build problem solving skills, and build collaboration — all great things to start the year with. The benefits of gamification include getting students excited about learning, which may lead to more engagement, practice, and ultimately learning. 
What is gamification? 
Gamification isn't about playing games all day, though games may play a part. Gamification in the classroom uses elements of game design, such as badges, levels, progress bars, quests, and point accumulation. 
Gamification isn't about pitting one student against another or even one team against another to get a final winner. Gamification may have a number of levels to reach, but there is always something new to strive for. In other words, there is no elimination in the game, but some players/students may advance more quickly than others. It's important to note that students can advance through effort and additional practice. 
Gamification is about building students' engagement with learning. That means a pizza party at the end isn't an effective reward. Students tend to focus on hitting the goal for the sake of the reward rather than engaging in learning or the material. Instead, students could earn other benefits, such as choosing their workspace or a homework free day, or a brain break. Class points could lead to a field trip, movie, or celebration related to learning. 
Gamification examples in education — how to do it
Have you ever used the app Duolingo, which teaches languages? Every day you learn, you add to your streak, which is tracked for you. Certain numbers of days trigger additional badges or rewards. Each day you have three challenges, such as scoring 90% or higher in 3 lessons, completing 5 lessons, and spending 15 minutes learning. Completing the challenges wins more rewards — gems or lingots that can be used to unlock other things or an opportunity to win bonus points for a limited amount of time. All of these pieces encourage users to keep playing — and learning. 
How can you translate that to your classroom? 
5 ways to use gamification in your classroom
Give points for completing academic work.

Students can earn points for completing work effectively. Points could be awarded for meeting all the criteria of an assignment or you could give students a number of options. Doing more earns more points. 

Allow students to earn badges.

Badges show students have completed mastery in a certain area. You could have badges for good class citizens, turning in homework 5 days in a row, mastering a particular subject. Get creative. Badges can be posted in an online classroom or on the wall in the classroom. Badges can also be used for building multiple levels in. So somebody may earn a blue badge for turning in homework 5 days in a row, and then they move on to try to earn the next badge by continuing their streak. 
Create a quest.

Quests include multiple steps and a deadline. Quests may be sequential, you have to complete one step before moving on to the next, or they could just require you to complete all the steps. For example, set up a particular learning unit as a quest. Or consider a beginning of the year quest that helps students learn about your classroom, the school, and each other. 
Need some ideas for back to school activities to include in your quests and challenges? 
Back To School Activities FREE Sample 
FREE Back To School Activities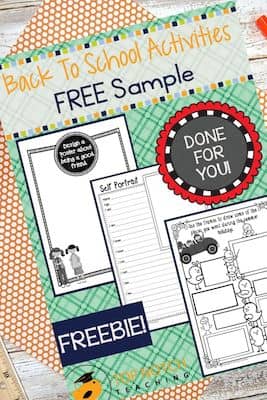 Subscribe to our newsletter to receive regular teaching tips and updates & get instant access to the Back to School Activities PDF:
Give points for classroom practices.

This can be particularly useful at the beginning of the year when you are establishing classroom rules and routines. Give points for following procedures, such as getting into line quietly or putting homework in the right place without being reminded. 

Build collaboration with team challenges.

You can set up challenges for pairs or teams within your classroom or for the whole team. This is a great way for students to work together toward a common goal while engaging in their own learning. Challenge your class to read 100 books in a month, play a certain number of phonics games in a week, or complete a quest together. 
Creating challenges and questions and levels for your students isn't hard, but if you haven't done it before, you may need to give it some thought. Save yourself some time on the activities to fill those challenges and questions with done for you back to school activities. 
Have you used gamification in your classroom? What worked well? 
FREE Back To School Activities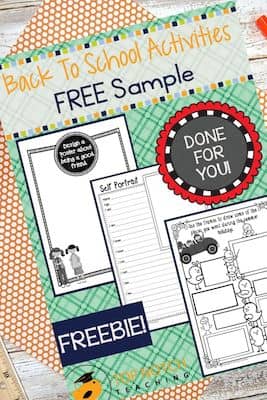 Subscribe to our newsletter to receive regular teaching tips and updates & get instant access to the Back to School Activities PDF: