Contributed by Guest Author: Teigan Margetts, Co-Founder, Ethicool 
Whether your little one is starting school for the very first time or simply settling into a new grade, the first few weeks and months of a term can be a little nerve-wracking. Do I like my teacher? Do I have friends in my grade? What's my new classroom like? Do the same routines apply this year? What will be expected of me? These, and many other questions, will be swirling through your kids' heads. What they will very likely need is a good book to settle their nerves, and undoubtedly, you'll want a book that you enjoy as much as they do. There's nothing as frustrating as reading the same boring story over and over again! 
Some of the links below are affiliate links, which means that if you choose to make a purchase, I will earn a commission. This commission comes at no additional cost to you. As an Amazon Associate I earn from qualifying purchases.
Best read alouds
With that in mind, here are five beautifully illustrated and endearing books that you'll want to read again and again.
There's something just so calm and serene about an ocean book, and especially an ocean book about a turtle! This catchy rhyming book with gorgeous illustrations introduces us to the all-wise, all knowing Samson C. Turtle. At 102, he's seen a lot in his lifetime and knows just about everything one needs to know about how to calm down. 
This adorable book is a beautiful story, but also a gentle reminder that we all experience anxiety at times and need to be familiar with certain tools and techniques to help us deal with it. 
For kids, starting a new grade is like moving to a new city. Sometimes you get lucky and that city feels familiar, but sometimes it feels strange and lonely in many ways. The fact that this happens makes The Bear and the Piano the perfect read-aloud. 
As a young cub, Bear discovers a very special thing in the forest. Before he knows it, he's a prodigy and off to the city to perform as a big-time pianist. All the fame isn't as fulfilling as he thought, but when he returns home, will his friends welcome him back, or won't they? 
Written and illustrated by industry heavyweight David Litchfield, this delightful story reminds little ones that they can feel at home, whatever their new grade is throwing at them. 
Change is endemic in society these days, and it seems like every year that goes by, things are changing even faster. Hello Lighthouse, a visually stunning book that was awarded the 2019 Caldecott Medal, explores the idea that things certainly change, and that change isn't always bad. 
At the beginning of the book, we meet a solitary lighthouse keeper who lovingly tends the light at the edge of the earth. Through storms and seasons, he persists until his wife arrives. A family is soon created, but not long after, there's news from the land. Things are changing. 
Hello Lighthouse took out the Caldecott for good reason. The illustrations and endearing story will keep you going back to this beautiful and timeless story. 
Starting a new grade can feel a little terrifying, and it's very likely that kids will need to 'come out of their shell' a little. If there's ever been a book that will encourage that, it's the charming Charlie's Shell. 
Authored and illustrated by the talented Marina Zlatanova, the cheerful little tale follows a snail called Charlie, who, when teased by some mean slugs, removes his cosy shell home. He discovers, though, that life outside the shell isn't as rosy as it seems, and soon rediscovers the joy of his little shell.
With beautiful rhyme and inspiring illustrations, this book is an encouraging read-aloud. 
Sometimes, when we're all a bit stressed and caught up in our daily lives, what we really need is a reminder that life out there in the world is so much bigger than us. And if there's a book that does that, it's Ethicool's extremely popular Remembering Mother Nature. 
In this awe-inspiring book, we're introduced to Mother Nature, who is a little disappointed by the state of her beautiful planet. She enlists the help of you (the reader) to keep animals and plants safe, and to safe-guard Earth for future generations. 
This wondrous book is as visually enticing as it is inspiring, and will help remind little ones everywhere that there is a vibrant and fragile world outside the classroom that deserves their time and attention. 
There's no time like the beginning of the school year to get stuck right into engaging read-alouds and set the tone for great reading for the rest of the year. 
Back to school activities FREE sample
And if you want even more first week of school activities to start off the year right, grab this free sample:
FREE Back To School Activities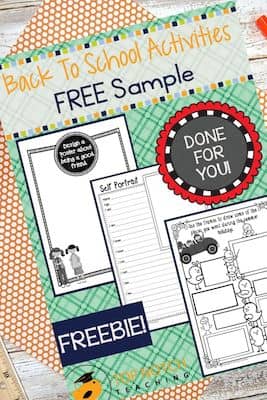 Subscribe to our newsletter to receive regular teaching tips and updates & get instant access to the Back to School Activities PDF:
About Teigan Margetts
Teigan Margetts is the Co-Founder of Ethicool. Ethicool creates beautiful and sustainable children's books about issues that matter to kids. Founded in 2020, Ethicool has sold more than 20,000 books to children and parents in more than 17 countries. Their books were awarded an Amazon Innovation Grant and they were recently featured on the Duchess of York's YouTube channel, Storytime with Fergie and Friends.
FREE Back To School Activities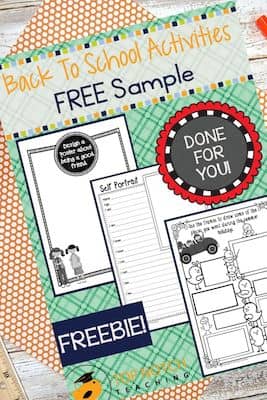 Subscribe to our newsletter to receive regular teaching tips and updates & get instant access to the Back to School Activities PDF: