Are you still using traditional leveled reading groups? It's time to rethink that. 
Leveled reading groups put kids together based on comprehension level. Kids read books for their level, and everyone in the group is at the same level. Leveled reading groups are a problem for two main reasons:

Kids in lower level groups tend to get stuck there. 

Leveled groups don't help readers at any level with specific skills they need to develop. 
The good news is there are effective alternatives. It's time to explore options like skill-based groupings and mixed-ability groups. 
Alternatives to leveled reading groups
Both skill-based grouping and mixed-ability groups align with the principle of personalized learning and promote improved literacy outcomes. Want to maximize progress and foster a love of learning? One of these alternatives to leveled reading groups could get you there. Let's take a look at each. 
Skills-based reading groups
Skills-based reading groups are more fluid than traditional leveled reading groups. Skill-based reading groups focus on specific reading challenges, such as decoding digraphs, fluency, thinking questions, or vocabulary building. You could have groups based around different phonics areas students need to master to boost their literacy. 
The interesting thing about skills-based reading groups is that students don't have to be reading the same text. They are learning to apply a skill to whatever they are reading. Skills-based reading groups provide additional instruction and practice to students on a skill they need to advance their reading … whatever level they are at. 
Students who might appear to be at the same level in traditionally leveled reading groups might have very different reasons for being there. By targeting support, you can help accelerate progress for struggling readers. 
Target specific skills with 5 FREE Reading and Spelling Games 
FREE Reading & Spelling Games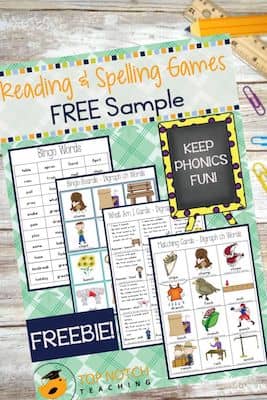 Subscribe to our newsletter to receive regular teaching tips and updates & get instant access to the free reading and spelling games PDF:
These games target specific phonics patterns, including CVC words, digraph ch, phonemes /ae/, /ee/, and /ie/. Create a mixed-ability group that needs these specific skills. These done-for-you games make it easy to engage kids to build phonics skills that enhance their reading.
Mixed-ability reading groups
Mixed-ability reading groups have a lot of reasons to recommend them. Mixed-ability groups often bring in a wider array of perspectives, which benefits everyone in the group. Mixed-ability groups are good for collaborative and peer-based learning and can boost comprehension and critical thinking. They can also encourage friendships and self-esteem, things that can take a hit for students lumped into low-level reading groups. 
As we've seen in skills-based reading groups, students bring different skills to the group. While a student might be considered a lower-level reader based solely on comprehension, they may have expertise on a particular subject they bring to their reading. They might excel at a particular skill that comes into play in a certain reading passage. 
Rethinking reading groups doesn't mean you are throwing reading levels out the window or that all students read the same texts at the same time. It means you differentiate instruction in different ways. That might look like:
Calling all students who need practice on a specific skill or strategy into a flexible group for a mini-lesson, no matter what students are reading.

Kids choosing books based on their reading level for independent reading

Engaging students in conversation around reading based on interests, not ability

Providing additional scaffolding for kids who need it to read on-grade level texts and then mixing groups for discussion

Providing games to practice a specific phonics skill 
It's time to implement innovative reading group strategies. To do that, it helps to have a wide library of phonics-based resources and activities to meet student's diverse needs. Become a member of the Top Notch Teaching Literacy Club; that library is available at your fingertips. With a scope and sequence to help focus on different skills, assessments and tracking tools, and most importantly worksheets, games, cootie catchers, and more to help you individualize your instruction and bring reading groups together in novel ways that enhance all students' reading skills.
FREE Reading & Spelling Games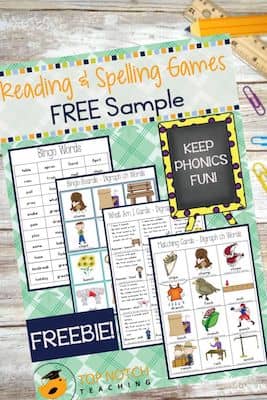 Subscribe to our newsletter to receive regular teaching tips and updates & get instant access to the free reading and spelling games PDF: