Does your literacy center need a refresh? I know you're always updating materials to match particular areas of learning and to make sure students have enough to do. Sometimes it's helpful to step back and look at your materials with fresh eyes to see what you might want to change up or add to your literacy center. 
Updating literacy centers could mean revamping things to incorporate more of a three-story intellect plan. You could add new posters or word wall updates to keep words or concepts in front of students. Keep interest high by updating activities in literacy stations frequently, swapping out activity sheets for games or tactile activities, like play dough mats. Rotate activities frequently both to keep students from getting bored but also to engage students with different learning styles. 
3 literacy center ideas your students will love
There are so many fun ways to help kids practice reading, phonics, spelling and other literacy skills. Here are just 3 literacy station ideas you can start using now. 
Add more games
One thing my students never complain about is playing games. By including a variety of games, you can provide students with practice reading, writing, spelling, segmenting, and blending. Many games involve some speed, so they can also help students practice fluency. 
Games I love to include in literacy centers include:
Bingo

—Focus on CVC words, a particular vowel sound or digraph, or any other words students need to practice.

Matching games

—Students can match word to picture or word to word. With word cards, you can play a memory game where students flip over cards trying to match two. Students can play Snap, where each flips over a card and if they match, students say Snap (the first to say snap wins all of the cards). 

4-in-a-Row—

Students spin a spinner. Students write whatever word the spinner points to into a box on a grid, hoping to be the first to get four in a row.
Get some free phonics games that are perfect for literacy stations right here:
FREE Reading & Spelling Games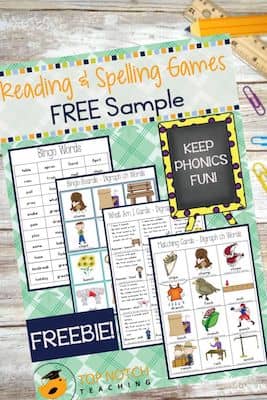 Subscribe to our newsletter to receive regular teaching tips and updates & get instant access to the free reading and spelling games PDF:

.
Try cootie catchers
Cootie catchers are another fun activity my students always love. Students can use cootie catchers in pairs or on their own. Here's how I use them in pairs:
Student 1 operates the cootie catcher to start (students will alternate).

Student 2 picks one of the pictures/words and reads the word.

Student 1 opens and closes the cootie catcher while saying the sounds. For example, if the picture is of a tooth, the student would say: /t/ /oo/ /th/, so that student would open/close the cootie catcher 3 times.

Student 2 reads one of the words.

Again student 1 opens/closes the cootie catcher for the number of sounds in the word.

Student 2 picks another word.

This time student 1 opens the flap to reveal a spelling for the sound focus. For example, the spelling could be <oo>.

Student 2 writes a word that includes this spelling of the sound. The student can use some of the words from the cootie catcher or think of their own. For example, the student could write 'loop.'

Then students switch roles. 
Vary activity sheets
Sometimes you just need a good activity sheet for quiet, focused work on a particular sound, word set, or skill. Having lots of activity choices to draw from to use in literacy centers (in addition to activity sheets on a variety of phonetic sounds or word types) helps mix it up. 
A few of the activities that keep students engaged include:
Draw the Words

—Students read the word and draw a picture

Read and Write

—Students read each word, write it as they say each sound in a separate box, and then blend sounds together to say the whole word

Sort the Words

—Students sort the words based on the spelling of key sounds. 

Complete the Sentence—

Students use a word from the word list to complete the sentence. 

Missing Sounds

—Students complete the words by filling in the missing sounds.
There are so many great ways to provide practice in literacy centers! These are just a few to help your students get the practice they need.
Need for games, cootie catchers, and activity sheets for literacy centers upgrades? Look no further. The Phonics Worksheets & Activities MEGA Bundle gives you plenty of each! 
Plus the bundle covers CVC words, consonant blends, multiple digraphs, and alternate spellings. See everything that's included in this no prep kit and get your copy here: https://topnotchteaching.com/downloads/phonics-kit/
FREE Reading & Spelling Games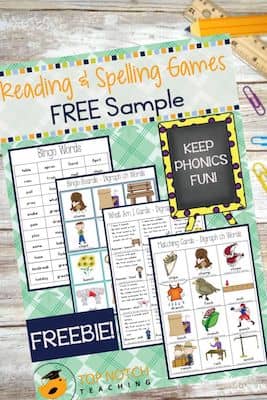 Subscribe to our newsletter to receive regular teaching tips and updates & get instant access to the free reading and spelling games PDF: