Your students have made so much progress this year … but what's going to happen over the summer? Too often, students lose some of that hard-earned learning. In fact, low-income students can fall behind by as much as 2 months over the summer. And that adds up over the years. Fun and simple summer reading activities can help slow the slide. 
How to prep for summer reading
End the year with lots of reading activities to get kids excited and ready to keep reading over the summer. Try:
Take a library field trip.

Access to books makes a difference when it comes to summer reading. Public libraries often have summer reading activities that are open to all. Take a field trip to a local library. Show kids how to find books and check them out. Send home information about free programs. 

Set reading goals.

Before the end of the school year, have each student set a reading goal for the summer. You have students make a sticker or coloring chart to track their reading.

Make a recommended reading list.

Are there books you think students would love? Make a list with a brief description to help students choose books over the summer. Ask each student to recommend 1–3 books they think other kids would like. 

Having a reading picnic.

You can read aloud to kids and then have them read on their own. You could even have a book related snack to make it fun. 

Play literacy games.

You can send reading and spelling games home with kids to play over the summer. You can teach kids how to play the games by previewing them in class.
Get Reading and Spelling Games FREE Sample: 
FREE Reading & Spelling Games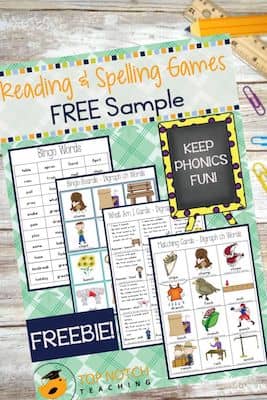 Subscribe to our newsletter to receive regular teaching tips and updates & get instant access to the free reading and spelling games PDF:
Fun summer reading activities to slow the summer slide
Reading even 4-6 books over the summer can make a difference. Add in some reading games and kids are much more likely to come back to school ready to read — without the slide — in the next year. 
Create a summer reading bingo card.

Give each student a bingo card to encourage them to explore different genres and try new reading activities. For example, include squares like: read a nonfiction book, play a reading game, write a review of a book, listen to an audiobook, read a graphic novel, read outside … there are so many options. 

Make books available.

Start a Little Library by the school. Ask for community donations or use book order points to get books. Explain to kids that they can bring books home and those or others back for free. Run a book swap. Remind kids they can use the community library.
Set up book buddies or reading groups.

Having a reading buddy or group can provide some accountability and make reading more fun. Students could be book pen pals, meet at a local library or park to talk about a shared book, or even just track and recommend books. If local libraries or book stores host kids book groups share that information with kids. 

Plan a back to school book bash.

Host an outside reading day featuring read alouds, reading games, and quiet reading time. 

Match technology with summer reading activities.

Show students how to use ebooks, play online reading games, or join online book discussions. 
Share a book.

Have students create a book trailer or poster for a book they love that gets other kids excited about the book. Share the book trailers or posters at the beginning of the school year to encourage more reading — or see if students can share their posters or trailers at the local library over the summer. 

Play games.

Send games home with kids to keep them practicing reading and phonics skills over the summer. Some of my favorites are 4 In a Row, Bingo, and cootie catchers, but you can also have kids draw words, match words, and so much more. 
The good news is you can avoid the summer slide with summer reading activities — without more stress for you. Get the Phonics Worksheets & Activities MEGA Bundle. The bundle is Science of Reading aligned and includes tons of phonics worksheets for summer reading and in the classroom too!
FREE Reading & Spelling Games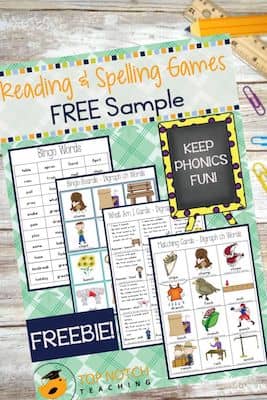 Subscribe to our newsletter to receive regular teaching tips and updates & get instant access to the free reading and spelling games PDF: