Is it just me, or do we all get overly ambitious in the new year? We have so many dreams and ideas we want to implement. We set big bold teacher goals … and then too often life steps in. We get caught up in the every day of teaching. 
But let's not give up on teacher goals just yet. 
Go ahead and dream big. With a little planning and focus, we can make our goals a reality. Let's do it!
Where goals for teachers get real
Let's look at some real teacher goals — the ones I'm setting, the ones I see my teacher friends and teachers in my Facebook group setting — and how those goals move from aspirations to reality. 
Goal: Be more organized in the classroom.
These tips can help:
Reduce clutter.

Start by getting rid of things you don't love or that don't work. Set up a rotation of materials. This means less is out at once—and you keep things fresh for students. Use labeled bins and set reminders in your calendar for when it's time to swap things out. 
Make sure everything has a home.

When things have a home, it means less clutter. It also means clean up is easier. You can label where items like scissors and rulers go. You can have a system for shelving books. Before you transition to a new activity, have students put all items where they belong, or have a "Homing" session—five minutes at the end of the day where everything gets put away. If you use a job chart, you could assign a student or two to this task. 
Make a plan!

Planning your week helps you remember key appointments, meetings, and other events. One key is to be realistic about how long something will take, including transition time. Whether it's how long your students need to settle back after recess or how long it takes you to get out the door at the end of the day, if you aren't realistic, you'll constantly be frustrated and feel like you are running behind. Can't fit it all in? Cut something out. 
Get free Daily Planning templates: 
FREE Daily Planning Templates
Subscribe to our newsletter to receive regular teaching tips and updates & get instant access to the free daily planning templates:
And plan your lessons! These lesson planning templates make it easy. 
Goal: Improve behavior management in the classroom.
These are some steps you can take: 
Start with self-assessment.

Take a look at your own actions first. What can you do to set a different tone with students? What actions can you change?



These free behavior management tips include a self-assessment to help you reach your teacher goal: 
FREE Behavior Management Tips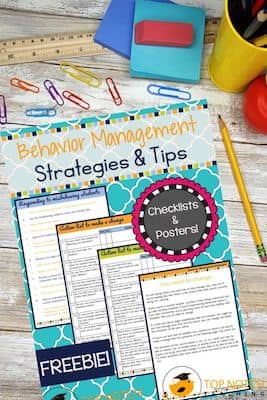 Subscribe to our newsletter to receive regular teaching tips and updates & get instant access to the free behavior management PDF:
Set expectations early.

Be clear on expectations early in the year. Then review and reset expectations at the beginning of each term or after a break. Model expected behavior. Discuss as a class about how to treat each other. "Catch" kids doing positive behaviors and comment on it. Practice using more positive language in the classroom. This can be how you talk with students. You can also encourage positive language when students communicate with you or talk with other students.



Here's a positive language poster for your classroom: 
FREE Positive Language Poster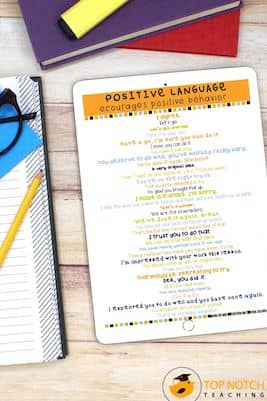 Subscribe to our newsletter to receive regular teaching tips and updates & get instant access to the free positive language PDF:
Provide breaks.

We all need a break sometimes. Working regular brain breaks into your schedule can make a big difference. Give students a chance to move a little or shift their attention.

Brain Break Cards

are a great way to keep breaks focused and short—and kids enjoy them. It's a great tool to have in your tool kit!
Goal: Have better work-life balance between home and school. 
Try these ideas: 
Have an "end of day."

We all know a teacher's day doesn't end when the final bell rings, but it's important to have an end of day. Whether you stay at school to prep or finish things up or bring work home, set a timer to remind you to be done. 
Do something just for you every week.

Block out time every week for something just for you. It could be a walk before school on your favorite trail or beach. It could be yoga class right after school on Friday (way to say "I'm done for the week). It could be enjoying coffee at your favorite cafe or going out to a movie on the weekend. Put it on your calendar — and hold that space for yourself. 
Let go of the need to recreate the wheel every time.

You have great ideas, but you don't have to make up every activity, worksheet, or game. There are great

done-for-you activities

! Every time you choose ease, you make a little more space for the life part of work-life balance. 
What are your teacher goals for the new year? What steps are you taking to make them a reality? Stuck for ideas? Join the Top Notch Teaching group on Facebook to see what other suggestions other teachers have.
FREE Positive Language Poster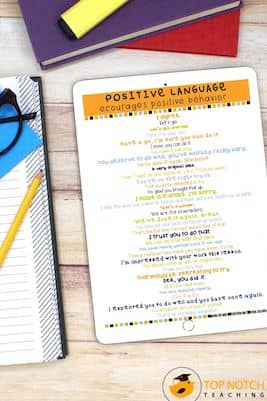 Subscribe to our newsletter to receive regular teaching tips and updates & get instant access to the free positive language PDF: