Are you looking for new ideas for teaching digraphs to your students? I know I'm always looking for new ideas for teaching phonics, and teaching digraphs is one topic that comes up a lot. Digraphs are 2 letter combinations used to represent one sound. Common digraphs your students will need to learn include: sh, ch, th, ck, ai, wh… plus many more.
So there are a lot of digraphs to teach, but thankfully there are also a lot of activities and games to make teaching digraphs fun.
3 games for teaching digraphs
You can use these games to teach a new skill to the class and to practice with small groups. Some of these activities can also be done individually, making them great choices for phonics or literacy stations or to send home for homework.
Mystery bag
Mystery Bag uses props to practice a specific digraph. I'll show you how to use this activity to introduce a digraph and how to use it for additional practice.
You'll need a bag filled with items that have the digraph in the word. For example, for the digraph /sh/, I could have a ship, shark, shell, brush, and cash.
When you are teaching digraphs, start by introducing the digraph. For Mystery Bag, write the digraph on the board. In our example, write /sh/, and ask students to think of some words that have that sound. Write students' suggestions on the board. If the word they say is also one of the props from the bag, take this out and show it to the class. We keep going until students cannot think of any more words. If students haven't guessed some of the props, give clues to help them figure out what they are. This activity helps match a word to a visual item.
If you've already introduced a digraph, you can use Mystery Bag to practice with students in a small group. Have one child pick an item out of the bag without showing it to the others. Ask that child to say the separate sounds in the object to the rest of the group. For example, if they picked the cash they would say the sounds: /c/ /a/ /sh/. As they do, demonstrate writing down the sounds. Point out that there are three sounds, although there are four letters, because /sh/ represents one sound. Then ask students to blend the sounds together to hear the full word. The student who picked the item can reveal it. For the next word, have students write down the sounds themselves as you continue until all the props are used.
Missing sounds
This activity, which also works for introducing blends and consonants, is ideal for introducing a new sound. It's one of the first I use when teaching digraphs.
To play missing sounds, write a word on the board, but omit the focus digraph. Keep it up there until one of your students guesses what the missing sound is and spells the word.
Here are some examples with the target digraph in parentheses:
     op (sh)
     alk (ch)
ch     n (ai)
mu     y (sh)
bran      (ch)
mon      (th)
Once students guess the missing sound, see if they can think of other words with that sound.
Around the room
When you are teaching digraphs, you'll want to keep them in front of your students. One way to do that is with a word wall focused on the sounds you are working on and those that students have mastered. You can also use posters that feature particular digraphs around the room.
You can also play I Spy with items or words around the room. Choose an object and identify the digraph it uses. "I spy with my little eye, something with a "sh" sound. Students can guess. If they are having trouble, say where the specific sound is. For example, if the word were shelf, the student could say the word starts with /sh/.
Before you begin, clarify if students must use actual objects or if they can use pictures of objects (if you feel like you don't have a lot of items with your target digraph in it, do the latter.) You can even label items students notice in the room, highlighting the digraph: shelf, fish, chair, chart, chalk, clock, rocker, block, month, etc.
These are just three activities you can use when teaching digraphs. One of the things I love is that they are easily adaptable for any digraph you are teaching (and often for other sounds as well). For more activities and games to keep teaching digraphs fun, check this out:
The Ultimate Digraph Teaching Kit
With over 200 pages of lessons, worksheets, and activities covering 10 different digraphs, teaching digraphs just got a whole lot easier. Get a preview and your copy here: https://topnotchteaching.com/downloads/ultimate-digraph-teaching-kit/
FREE Reading & Spelling Games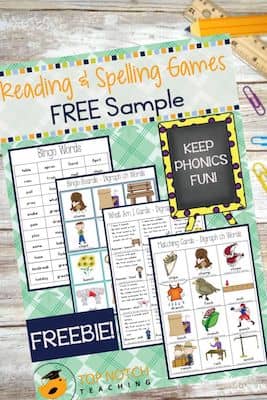 Subscribe to our newsletter to receive regular teaching tips and updates & get instant access to the free reading and spelling games PDF: