Are you getting kids back up to speed on math topics like basic functions such as addition, subtraction, multiplication, and division after too much time away from the classroom? Introducing or expanding on topics like place value, skip counting or mental math? Your students will need plenty of math practice.
Having a variety of tools for math practice has benefits:
Kids learn different ways, so different tools will help different kids build their math skills. 

Some kids need a lot of math practice and using multiple tools keeps math practice fresh. 

Different kinds of math practice work better for different purposes (homework vs. independent classwork vs. group work, etc.) 
Here are some tools I love having in my math toolbox!
Math practice tools you'll love
There is a lot to cover in math, so I choose favorite resources that cover different areas. While I said four tools, I had to throw in a few extras too. 
1. Task Cards
Need additional practice and reinforcement? A quick assessment? Independent station work? Small group work or games? More math practice for home? Challenges or enrichment? I have two words for you: Task Cards. I use math task cards for all of these things and my students love them. 
Here are three ways I use task cards:
When You're Done Activities.

Do you have

fast finishers

? Or maybe you need to occupy students while you wrap up one-one or small group work. Task cards are a great "when you are done" activity. You can set up the expectation that when students finish the already assigned work, they work on a task card that is in their work bin or desk or in a math center.

Homework for the Week.

Send home a set of task cards at the beginning of the week with instructions that they all be completed by the end of the week. Students can do one task at a time or sit down and work through the set all at once. 

Math Center Activities.

I leave task cards in my math center. Sometimes I send students there to do individual work. Other times I send a group to work through a set of task cards together, supporting each other, and discussing responses.
Try a free sample of time task cards or area task cards!
2. Puzzles
One of the things I love about puzzles is they can provide two steps of math practice. Students get to practice as they put the puzzle together. Then they can use the finished puzzle to review or use for other kinds of practice. 
I give some ideas about how to use the hundreds chart puzzles below. Other puzzles I use for math practice include: skip counting puzzles and transformation puzzles.
3. Cards & Dice
These simple items can be used for so many math games. I use these games for small groups or partner work. Many of them help students develop math fluency as there is a speed component to several of the games. 
You can find the directions and rules for six math card games here including:
I spy with my little eye

First to add it up

Fast facts

Card bingo

Counting on card game

Place value cards
You can find out how to play three math dice games here including:
Just 100

Knock out

Top three
4. Hundreds Charts
Hundreds charts are such a simple but useful tool. They can be used simply to introduce students to numbers up to 100 (or higher if you have a chart that goes beyond) and to understand number order. They are also fabulous for helping kids see patterns that can help in a variety of math functions. 
Three ways to use hundreds charts:
Explore numbers and patterns.

Start by having students read the numbers as high as they can. Note where they get stuck. Cover over a few numbers. Ask students if they can fill in the blanks. Ask them what patterns they notice.

Count on or back from a number.

Have students locate a particular number on the chart, say 19. Ask them to count on 4 (if students are just beginning to count on) or a larger number like 13 or 24. Then have them count back 7. Use different numbers to practice counting on and back. 

Practice skip counting.

Use the hundreds chart to show students how to skip count. Start by counting by 10s. Have students try. Then demonstrate counting by 5s. Again have students try skip counting. Then challenge students to count by 4 s or 9s using the hundreds chart. 
Hundreds chart puzzles are a fun way to use hundreds charts. Students put together the puzzle using shape and what they know about numbers to create a hundreds chart they can use for other purposes. 
You can get your free, downloadable Hundreds Chart Puzzles, by filling in the form below.
FREE Hundreds Chart Puzzles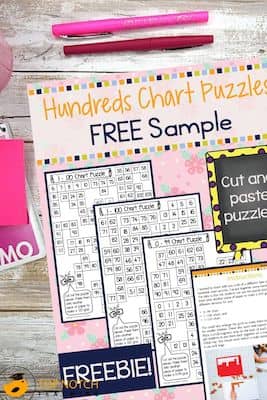 Subscribe to our newsletter to receive regular teaching tips and updates & get instant access to the free hundreds chart puzzles PDF:
Need even more tools for math practice? 
The

Bumper Book of Fun Math Games and Activities

has you covered with 138 pages of math worksheets, activities, puzzles, and games covering numbers, mental math, space, measurement, and chance and data.

The Top Notch Members Club brings together a variety of resources for math practice, phonics and literacy, science, health and physical education, classroom management, and more. Join and know exactly where to go for done-for-you resources.