We often think of math and reading as separate things. We have literacy centers and math centers; we teach fractions and phonics separately. But what happens when you bring books and math together? Math read alouds are magic. Students who struggle with or think they don't like math get swept up in picture books for teaching math just as they do in other books. 
Success with math read alouds starts with good books, and there are many to choose from that cover different math concepts. From there you can incorporate math read alouds in a number of ways. 
Some of the links below are affiliate links, which means that if you choose to make a purchase, I will earn a commission. This commission comes at no additional cost to you. As an Amazon Associate I earn from qualifying purchases.
Use math read alouds in your classroom
Kick off a lesson with a math read aloud. Math read alouds can help hook kids into math lessons and get them excited about math topics they might otherwise be resistant to. That's one reason I like to kick off a new lesson or concept with a math read aloud. 
Go for an "Oh, I get it now" moment. Math picture books make math concepts more relatable. This is another reason math read alouds are great for introducing a new topic, It's also why they are great to use shortly after you introduce a new concept. You've explained the idea, students have had a chance to try it, and then the story helps illuminate it. If kids seem stuck, a math read aloud on the subject might help them get it. 
Extend a lesson. Math read alouds can lead to extension activities. Some of these may be activities you choose, but others may be things students ask to do because they got the idea from the book! You can add these extension activities to math stations and centers. You might end up having students practice estimating and then counting pumpkin seeds after reading How Many Seeds in a Pumpkin. Sometimes just tying a lesson to the book, even if it's something as simple as using monkey shaped counters after reading a Five Little Monkeys book, can help create interest. 
Sneak math in outside regular math time. If you read a picture book for teaching math during your usual read aloud time, students who dread math may take to the math more because they are thinking of it as hearing a story. Alternately if you choose to read a math read aloud when students expect math, they may find it a pleasant surprise! Either way, it can be engaging.
Choose picture books for teaching math
So what books should you use for math read alouds? It depends of course on what concepts you are teaching. I'm sharing favorite books for a handful of topics to help get you started!
Odd & even numbers
One Odd Day by Doris Fisher and Dani Sneed
My Even Day by Doris Fisher and Dani Sneed
Both books are best for grades 1–3. 
One Odd Day is a really fun introduction to odd numbers, and, as you might guess the sequel, My Even Day does the same for even numbers. In One Odd Day, a boy wakes up to find that everything around him is now odd. Instead of a pair of socks, he only has one; his shirt has 3 sleeves and his dog has 5 legs! In the follow up, everything is in even numbers, including his mother's heads. Students will have fun exploring the objects in the illustrations of both books and searching for odd and even objects! 
Fractions
My Half Day by Doris Fisher and Dani Sneed
If your students like the books by Doris Fisher and Dani Sneed, you'll definitely want to check out My Half Day by those authors. Given the set up for One Odd Day and My Even Day, you can guess what happens in this one! From half a head of hair to soccer goals worth 5/8ths of a point, fractions rule the day. 
Shape and area
Mouse Shapes by Ellen Stoll Walsh
Geared toward K–2 students, Mouse Shapes helps students learn to identify shapes. Three mice run away from a cat and find themselves amongst some colorful shapes. The mice move the shapes around to create different pictures. In addition to shapes, the mice learn about creativity and cooperation. You can give students different shaped papers to have them try to make pictures like those in the book — or their own pictures. 
Spaghetti And Meatballs For All by Marilyn Burns and Debbie Tilley
Perfect for grades 2–4, this book helps students understand area and perimeter in a real world context. 
The story revolves around Mrs. Comfort, who is having a family reunion with 32 people. She figures out how to seat her guests, but then others arrive and they change the shape of tables to fit all the guests. You can use the teaching notes in the back to extend learning. 
Skip counting / multiplication 
Lots of Ladybugs!: Counting by Fives by Michael Dahl
This book for K–2 helps students learn about skip counting, specifically by fives. The illustrations are a lot of fun. Students may enjoy spending time with this book to look for the hidden pictures after your read aloud. There are other books in the series about skip counting by twos and tens as well. 
Each Orange Had 8 Slices: A Counting Book by Paul Giganti, Jr & Donald Crews
This book is best suited for grades 1–3 and students learning about multiplication. This book is an excellent introduction to multiplication, but can also be used for addition or even counting practice.
Here's an example from the book: 
"On my way to the playground, I saw 3 red flowers. Each red flower had 6 pretty petals. Each petal had 2 tiny black bugs."
This is followed by questions like: "How many red flowers were there?", "How many pretty petals were there?", "How many tiny black bugs were there in all?" You can count out the responses (the illustrations are designed to help kids do just that). Or you can set up addition or multiplication problems to show students other ways to answer those questions. 
Looking for more ideas about skip counting? In addition to math read alouds, skip counting puzzles give students great practice! 
Get Free Skip Counting Puzzles: 
FREE Skip Counting Puzzles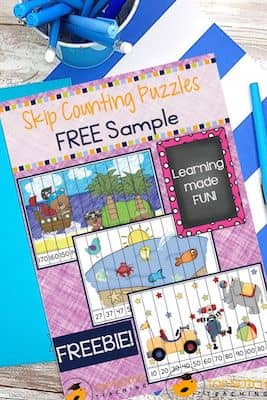 Subscribe to our newsletter to receive regular teaching tips and updates & get instant access to the free skip counting puzzles PDF:
They are a perfect follow up for read alouds about skip counting in math centers, for homework, or for individual extra practice!