Heading back to school continues to be a source of excitement and trepidation for all teachers, even more so for new teachers in their first couple of years of teaching. There are so many parts to think about, plan and organize. Sadly, many teachers begin the year stressed and tired even before that first day rolls around.
However, there are experienced teachers that know exactly what you're going through and have all the back to school tips you'll need to help you start the year right! I decided to gather 50 of them and ask them this question:
"What are your best back to school tips for new teachers?"
Let me tell you, the insights I received from these 50 remarkable teachers were nothing short of amazing. I've listed all of them below.
50 Back to school tips
"Focus on procedures."
Rissa is a classroom teacher with 15 years of experience. She blogs at Teaching in the Heart of Florida. 
Make a list of how you want students to do everything. Then teach them explicitly for the first 2 weeks of school. It will make your class run smoothly and your year will be better for it!
"Develop a routine or schedule for your own health and well-being."
Chris blogs at Mister Mitchell's Education Resources. He has more than ten years of K-12 classroom experience. 
There will be several days when you will resort to running on just a few hours of sleep, will feel stressed out, and generally feel overwhelmed. Set up healthful routines and schedule time for yourself early in the school year, so the latter months will be less challenging physically, emotionally, and mentally.
"Organize yourself."
April is a high school social studies teacher. Her blog focuses on education, including tips, teaching hacks and lesson ideas. 
I try to figure out which day of the week that I am willing to stay late at school and which nights I let myself work from home. Otherwise, I end up working every single night. It is important to give yourself some personal/family time.
"Spend time each day (the first few weeks) on a team building activity!"
Alicia is passionate about children's literature, Science, Engineering, and all things creative and inspiring. She blogs at Create. Love. Teach.
It's important for you to get to know your students, but it is also important for students to get to know each other. The better they can work together, the smoother your cooperative group activities will go. It also builds an important sense of classroom community.
"Have at least 5-10 extra copies of your open house papers."
Erica is a first grade teacher and is working on her Masters in literacy. She blogs at The Simplified Classroom.
My tip is to have at least 5-10 extra copies of your open house papers so that students who move in after Meet the Teacher night can still get all the same information and forms! I've met students and their families the morning they are joining my class (surprise!) and it's so nice to be able to hand a little packet directly to the parents and ask them to fill out student info, etc. I typically have a student info sheet, a magnet with my contact information, and a welcome pack of info.
"Make sure you have met with the special education teacher if you have students with special needs in your classroom."
Natasha is a special education teacher and also has a Masters in Special Education. She blogs at The Resource Teacher.
Make sure you understand the needs of the students and what is expected of you. Even though the student is on an IEP and the special education teacher is the expert, you [gen. ed. teacher] are still a part of the team.
"I think it's important to go to the teacher's room at lunch."
Kim is a teacher with more than 20 years teaching experience and has taught K-5 students. She blogs at Stress-Free Teaching. 
We all have a million things to do and it's really easy to use lunch time to get some of it done. Going to the lunchroom helps build connections with the teachers at the school. Connections are important to build friendships and to realize that every teacher struggles at times. The connections you make are worth the 30 minutes out of the classroom.
"Start out the year with a lot of structure."
Gloria is a kindergarten teacher with creative flair. She blogs at 2 Scoops of Kindergarten. 
Give your students explicit directions on what your expectations are and be consistent. Take the time to model these behaviors over and over and make sure you do not start talking until you have all their eyes on you. Students feel safe when they know exactly what is expected of them.
"Put up a daily schedule as to what is happening in the day."
Sue is a curriculum developer, 5th grade teacher and has been teaching for 23 years. She blogs at It's All Good Really. 
I include assemblies, specials, and even tests. I include my morning work and sharing time also.
"Be prepared ahead of time, get supplies in order and label everything!"
Jacqueline has a vast range of teaching experience; a Masters in Administration and has also received her Dyslexia certification. She blogs at The Little Ladybug Shop. 
I usually buy tons of extra because many students cannot afford supplies. Therefore the first few days I'm not scrambling to organize supplies, etc. I can focus on the important things as setting expectations for learning, routines, and building strong relationships!
"Remember to take time for yourself."
Sandra has over 25 years of teaching experience across adult and elementary education. Now she is also dabbling in creating clip art. She blogs at Mrs Naufal's Nook. 
Continue to do something that you love to do during the school year. It could be a hobby, exercising or reading. Just as your students need "kid" time, you need time too.
"Focus on building a community where everyone feels safe, valued, and respected."
Jennifer has worked in all grades from preschool through to 6th and now also creates homeschool curriculum. She blogs at Pages of Grace. 
I spend the first few weeks doing activities that promote respect for each other, which really sets the stage for a positive year.
"Make friends with the support staff at your school – especially the secretaries and custodians."
Marissa has been teaching for 18 years and she loves to find new ways to teach creatively and engage all students. She blogs at the Inspired Owl's Corner. 
Take them treats and try not to bother them too much, and when you are really in need of help, they will bend over backwards to help you. I always tried to "fly under the radar" at my new schools and that has worked for me.
"You don't always need to reinvent the wheel."
Christine has 30 years of teaching experience. She blogs at Hand to Heart. 
This can cause you to feel overwhelmed and burnt-out. There are many sites with resources, activities and products that are helpful in your day-to-day teaching.
"Take some time to get to know your students."
Jen loves to create teaching resources and doodle clipart in her spare time. She blogs at Teaching in the Tongass. 
When the year really gets going, student relationships seem to come second to everything else, but they really help build trust and provide you with an opportunity to really connect with them in learning. If you don't know Sally has a sister in 5th grade, you can't add that little piece that connects her learning when you're talking about what it's like to be the baby in the family when reading that book. Take a minute to remember how important you feel when someone allows you to share your experiences, and give that right back to them.
"Stay in tune with classroom management."
Stef has been teaching math for 15 years and loves to show students that math does apply to the 'real world'. She blogs at Stefbub's Classroom. 
If you give them an inch, they'll take the mile. However, if you never give them the inch, they won't work for you. It's a fine line and balance. It can change day to day, year to year, so just stay in tune.
"Find a mentor teacher you trust and enjoy working with!"
Karen loves making connections with other teachers and sharing ideas. She blogs at Planet Happy Smiles. 
Take time in the beginning to model and implement routines and expectations. Even if you miss a lesson or two, you will be thankful you did later! Take time to really get to know your students, invest in them and build them up. Organization is important. Find a place for everything in the beginning and your students will know where to put things away. In the evenings, take time to enjoy your time away from school. It will all still be there tomorrow.
"Have several simple, independent activities available for the first few days."
Crystal has taught kindergarten, first and second grade. She blogs at Primary on the Prowl. 
Inevitably, something will happen that requires your immediate attention and having something for students to do will make it less stressful for you. Also, know how each and everyone of your children is getting home.
"Finding time in your school day for science is important."
Renee has over 23 years of teaching experience and is now a K-5 science teacher. She blogs at The Science School Yard. 
Use science based picture books that can connect to a hands on science experience that also incorporates reading and writing. To provide movement, teamwork, and problem solving skills add a STEM activity to allow your students the ability to think creatively and add that essential science component that teachers tend to let go out those busy schedules.
"Make your first contact with parents a positive one."
Diana in an elementary school teacher and curriculum developer. She believes that happy teachers really do cultivate classrooms full of happy children. She blogs at Happy Teacher, Happy Kids. 
Reach out to them early to start building a rapport. I email each family a photo of their child in the classroom sometime during the first week of school. Parents love getting to see what their child has been up to with a new teacher, new class, & new friends.
"Plan double what you think you'll need for the first day."
Heather has taught across a variety of positions. She has also been an elementary principal and a K-12 special education director. She blogs at Hojo's Teaching Adventures. 
That way you have enough material to get you through the day if things are going quickly, OR you'll have activities planned for another day.
"Show your students that you are a real person with a real life and not just a teacher who lives at school."
Kacey has been teaching English for a decade and she loves to use music and video clips in her teaching. She blogs at Ms KC Potter. 
I created a prezi that introduced them to my animals, what I did that summer, my childhood, etc… My kids referenced that prezi ALL YEAR last year.
"Organizing centers is huge for me and starts day 1!"
Jamila has been educating youngsters since 1997 and she loves for children to be actively engaged in their own learning. She blogs at Tidy Teacher. 
I teach my students how to be responsible with materials, the do's and don'ts of using interactive notebooks, etc.
"Establish your expectations and create the classroom climate you want on the first day of school."
Michele has been a teacher for 15 years, and has taught everything in the Social Studies and ELA Departments from grades 6-12. She blogs at A Lesson Plan For Teachers. 
Don't be afraid to let your students get to know you in the very beginning! Smile, tell jokes, laugh. You are human, and while you do deserve absolute respect, students will appreciate the honest connection.
"My tip is to not be afraid to let students know bits of personal information about yourself."
Jewel loves teaching science and math and she enjoys helping teachers make learning enjoyable for their students. She blogs at Jewel's School Gems. 
It makes you relatable and likeable. Every year, I show students a video/slideshow about myself, my family and my teaching career, and the reaction has always been positive. My students come out of the classroom on the first day feeling they know me and it makes it easier for me to get to know them better as the days go by. I also believe in the saying that students learn best from somebody they like.
"You don't need to spend a small fortune on things you think are a necessity, but really aren't."
Monica has been teaching since 1998. She began her teaching career at Jaanimmarik School in Kuujjuaq, Quebec – an isolated Inuit village in Northern Quebec. She blogs at I Heart Grade 3. 
When I started teaching, I was determined to have the cutest, most colourful class in the entire school. New teachers need to know that social media is so important to your teaching. Sites like these are open 24/7 and there is always a plethora of teachers out there to gain inspiration from. You don't need to do it all on your own – and it doesn't have to cost you a ton of money either!
"Set up before the students arrive!"
Taryn is an intervention teacher who has taught for over 25 years. She works with students from kindergarten through to 4th grade who struggle in reading and math. She blogs at Taryn's Unique Learning. 
Let's face it…part of the fun is making your new space work for you!
"Find your voice."
Gretchen is an educator of almost a decade. She is passionate about cultivating talent in aspiring and new teachers through practical tips and strategies. She blogs at Always A Lesson. 
Enjoy each moment and be a risk taker. You will become a great teacher over time. Work on commanding the room and showing your personality. The rest will come!
"Sprinkle those first days with great music/movement breaks."
Jackie is a kindergarten teacher committed to a workshop model; inspired by nature, art, children's lit, music/movement; journeying toward Reggio inspired, inquiry-based. She blogs at Roots and Wings. 
Sprinkle those first days with great music/movement breaks as well as engaging read alouds that let children know this is a joyful place!
"Be patient with yourself during your first year."
Kiana is a career coach for teachers and educators. She blogs at Edupreneur Today. 
There is so much that you don't know, won't know to ask, and us experienced teachers simply forget to tell you. Don't ever be afraid to ask questions. No question is too small and reaching out for help when you need it is the very best thing you can do for your own sanity and the success of your kiddos. Find a community of positive people to support you, on-line or in person, and lean on that groups when things get tough (because it will).
"Don't hold yourself to Pinterest and Instagram standards."
Carissa is a high school teacher who has taught in many locations, she now teaches ESL to students in San Diego. She blogs at Melting Teacher. 
They are showing you what (in many cases) took trial and error to discover. They are showing the best. But every teacher has days when their lesson wasn't the most creative. We all have days when we feel like we left a student down. We all have days where we didn't give a parent the best answer (and create a better response 12 hours later). We all have days when we just can't settle a class or explain a point. And having those days doesn't make us bad teachers. Going back to class and continuing: taking time to grow and develop. That's what social media can't always show us, and as long as you do that, you're doing great!
"Learners need to take risks to be successful, so work early at creating a classroom where all efforts are valued and it's okay to make mistakes."
Linda was a classroom teacher for 26 years. She has recently retired, but still has many 'teacherly yearnings.' She blogs at Primary Inspiration. 
Be vulnerable – acknowledge your own mistakes and talk about how they are a way to learn and grow (and if you don't make any, it's fine to set things up a bit to create the situation you need to start the discussion!).
"Spend the first few weeks teaching and modelling routines through guided discovery and practice."
Kathy has retired after 30+ years of teaching. Now she volunteers in her daughter's classroom. She blogs at Sunshine and Lollipops. 
Do not assume that your students know anything…your routines may be different than others. I model and teach all routines from using pencils to everyday expectations. If you have this set in the beginning, learning will take place later because you have set the expectations in the beginning!!
"Get your photocopying done first."
Kristy is a middle school teacher who loves sharing her passion for teaching and connecting with teachers from around the world. She blogs at 2 Peas and a Dog.
Get your photocopying done first then set up your room. Avoid the rush on the copier with this tip.
"Model, model, model"
Jessica has been a classroom teacher since 1999. She has taught all elementary grades and has been an instructional coach at the district level. She blogs at What I have Learned. 
Model the right way to do things. Model the wrong way to do things. Then, model the right way to do things. Have students model it. Have students model doing it incorrectly. Then have the same students do it correctly.
"Build a relationship with both students and their parents."
Sasha has been teaching for 14 years. She loves integrating technology into her classroom and was the first to use iPads in her school. She blogs at Sasha's Creations & Things. 
Parents can be your allies if you let them. Establish good communication between you and the parents. I use Class Dojo to keep parents informed. We all love it!
"Find out how your students will get home on the first day of school."
Liz is a K-5 teacher and has been teaching for 5 years. She loves finding inspiration for her teaching on the internet. She blogs at The Happy Teacher. 
When you meet parents at meet the teacher night / open house, ask them specifically how their child will go home on the first day of school. A lot of parents will pick their child up on the first day of school, but then they will ride the bus or go to daycare, etc. the rest of the week. You don't want to accidentally send a child home on the bus when Grampy is coming to pick them up!
"Create an engaging, comfortable, respectful environment right from the start."
Kimberly has been a teacher of 7th & 8th grade English for 15 years. She blogs at English, Oh My. 
Establish your rules, and make it clear that you follow through with the rules. This will set the tone for the entire year!
"Spend more time in the beginning of the year focusing on classroom management."
Ashley has been a teacher for 5 years; she is currently spending time raising her little one. She blogs at The Wright Nook. 
Working hard on it in the beginning will create a year of bliss (for the most part) and less time having to revisit rules later. I always had great success with following Ron Clark's Essential 55, and I taught kindergarten. It works in any grade. The parents all thought I was going to be strict but it helped to create a family oriented environment. We all were like family and the parents really appreciated it. It's by far the one thing I have recommended the most over the years.
"Don't be afraid to ask for help."
Kim has been a 5th grade teacher since 2006. She is passionate about teaching both math and science. She blogs at i Teach STEM. 
I've almost burned myself out before the first day overdoing it. Ask your coworkers for advice. Enlist teenagers to carry heavy stuff. Make friends with the custodians and you'll be amazed at how many ways they can assist you. And breathe. It will be ok.
"If you teach secondary, do not spend your first day going over your syllabus and rules."
Jen has been a teacher for 8 years. She likes to learn alongside her students and is a huge fan of shared inquiry/socratic seminar. She blogs at Teaching Teens in the Twenty-First. 
Students will hear the same thing 7-8 times that day, so make your class memorable!
"Get to know your grade level team and ask lots of questions!"
Kelsey is an enthusiastic teacher that loves to inspire children and teachers everyday. She blogs at Aloha to Second. 
No question is dumb. Be sure to find out lunchroom and recess routines, they're different in every school and can be confusing on the first day when trying to herd your group of kids around. Also, be sure to over plan! You don't want to be with your kiddos with nothing to do. Have a great school year. Remember you're great and each day you're making a difference even if you don't feel like it!
"My biggest tip to new teachers is to be flexible."
Tonja has been a teacher for 13 years. She enjoys creating activities to make learning fun for students. Tonja blogs at Smart Puppy Learning. 
Things will not always go as planned and that is okay. The first few days are always a bit hectic in the beginning so plan as best as you can and don't sweat the small stuff.
"The biggest thing new teachers struggle with is coming to terms with the teacher they have envisioned themselves to be (ideally) and the teacher they have the resources to be right now (realistically)."
Beth has been a teacher for 12 years and now mentors new teachers. She blogs at Adventures of a Schoolmarm. 
The hardest thing is holding on to your ideal vision and figuring out practical ways to implement it right now. Celebrate the little victories. Resist the tendency to compare yourself. Set small, actionable goals. Work in a way that is sustainable, not in a way that is unhealthy and impossible to maintain. Embrace mistakes as opportunities for growth. Hold on to your vision – your why. And when it feels like you are drowning or that you may be the worst teacher in the world, please reach out.
"Create a sub tub."
Aris has been teaching for 8 years and loves sharing ideas and collaborating with teachers from all over the world. She blogs at Sailing into Second. 
Creating an emergency sub tub can be a lifesaver when you are out sick!
"Greet your students."
Tammy loves sharing hands-on, engaging teaching ideas that help teachers save time and to do what they love. She blogs at The Owl Teacher. 
As your cute little darlings are coming down the hallway, you need to be ready to help them out and greet them. This is definitely not the time to catch up with colleagues you haven't seen all summer. You need to help these Nervous Nellie's feel better – and the best way to do that is by making them comfortable with your smile and warm greeting.
"Set high-measurable expectations."
Jen has a passion for education and all things that sparkle. She blogs at Sparking in Second.
Your students will meet them! If you only expect them to write one sentence, that's all they will write. How should they act in the classroom, how should they respond when they are upset, what does finished work look like, what does my teacher expect me to do during this time? Push your students, they need you to expect much from them! We all know you believe in your students! Expect much of them, and they will exceed your expectations.
"The kids need to know that they are a team."
Lisa has been teaching for 24 years in an elementary setting. She also is one of the founders of the school she currently teaches at. She blogs at Lisa TeachR's Classroom.
They need to learn to trust and work together. That will be especially helpful when doing cooperative activities.
"Make a classroom photo booth."
Ashley is in her 4th year of teaching and always knew she wanted to be a teacher. She blogs at Teach Create Motivate.
This is something I made and started last year and my students and parents loved it! I used it a total of 3 times throughout the year (Meet the Teacher Night, Open House, and the last day of school), but could have definitely used it more. I love it because it is so easy to make and doesn't break the bank! It is the perfect back to school project for your classroom!
And finally, my tip:
"If you see a toilet, go or you may not get the chance again."
Trust me, this is important to know. If you're at a new school, make sure you know where the toilets are and when your next break is. I share more tips in my post:
100 Things I've Learned About Being a Teacher
Summing up
Wowee now that is an awesome list of back to school tips from some expert teachers. There is something for everyone; new teachers; experienced teachers; elementary, middle and high school teachers; and support teachers.
If you think this list is as valuable as I do then make sure you share it with other teachers and educators and in your social networks 🙂
Finally, I think that it is so very important to support new teachers and teachers who are struggling.
That's why I've put together a pack of my top behavior management strategies. Use the form below to grab it now!
FREE Behavior Management Tips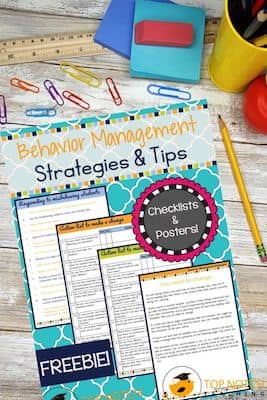 Subscribe to our newsletter to receive regular teaching tips and updates & get instant access to the free behavior management PDF: