How was 2021 for you as a teacher? How are you feeling about the next school year (or the rest of this year if you are mid-year)? It hasn't been easy for most of us, and morale has been low. Teacher burnout is real, and so encouraging teachers to stay with it is essential. 
Teacher Burnout Poster
Check the signs of burnout and steps you can take proactively or while you are in it. 
FREE Teacher Stress Poster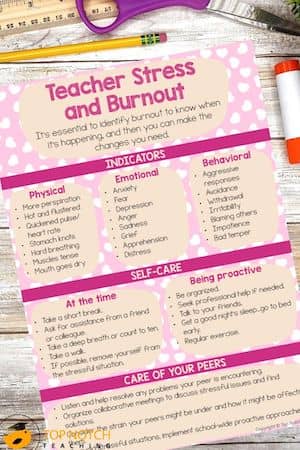 Subscribe to our newsletter to receive regular teaching tips and updates & get instant access to the free PDF:
But what can you do to stay motivated or help motivate teachers? 
Here are a few ideas. 
Encouraging teachers — ways to help in hard times
Most people reading here are teachers, and I'll share ways you can help yourself or your colleagues, but I also have some ideas for parents and administration that can help motivate teachers.
Take a break. 
Take the weekend off, completely. Don't work on lesson plans or grading. Give yourself a break. Plan some down time during school breaks — do something that makes you feel good or energizes you. 
Administration can help with this by setting and helping enforce boundaries around teacher time outside of school, especially on breaks. This means notifying families not to expect communication during certain times and not sending urgent messages. 
Families can help by recognizing that teachers are not on 24-7 and being respectful of that when they send messages and expect responses. 
Find the good. 
Sometimes when we are feeling overwhelmed and discouraged, it's hard to remember why we started teaching and why we love it. Take a few minutes to make a list of 25 wins from the past year — big, little, it doesn't matter. It could be the lesson you created that really engaged your class or getting the grant for new books for your classroom library or the lightbulb moment with one of your students or even something silly that made you laugh. Your goal is to find the good as a way of encouraging yourself. You can include moments from other years of teaching, but I challenge you to find 25 moments from the past year. 
Administration can recognize teachers for their successes, support them in innovative approaches, and provide opportunities for teachers to acknowledge each other. 
Families and students themselves can express appreciation in a note or email that shows the impact the teacher had or is having. There is a lot of complaining and vilifying teachers in public forums. Sharing publicly about teachers making a difference or how much they appreciate teachers can be encouraging. 
Help make school a place you want to be.
Find the good in other teachers. What strengths do they have? What are they doing that you admire? What can you learn from them? Share your observations. Often we don't notice our own strengths and it feels good to know somebody does? 
What would make your school a better place? What would motivate teachers to want to be there more? What would make it more fun? You're always looking to make things fun for students. What would make it fun for teachers and staff too — something real not forced? Talk with your colleagues. What ideas can you come up with together? What could you implement with ease? What can you request? Having a voice and being heard help a lot. 
Make things a little easier.
Anytime you can make life easier, you can reduce some stress — and maybe get a little more of the break that we started with. Sometimes, that alone can help turn things around. 
One way to motivate teachers is having new and exciting resources at your fingertips. Save time and energy coming up with ideas, while injecting something fun and new into your classroom. If you think you can't come up with one more phonics activity or one more math game, if PE has you stumped or you just need some more brain breaks, you'll find it in the Top Notch Teaching Members Club. 
Hang in there — and if you can, help out another teacher. Encouraging teachers and making it easier on yourself is critical now more than ever!
FREE Teacher Stress Poster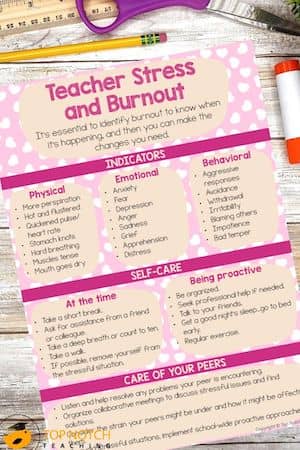 Subscribe to our newsletter to receive regular teaching tips and updates & get instant access to the free PDF: