Oh my gosh, I can't believe it, I have a job! But, they want me to start on Monday….How am I going to organize everything and plan lessons so that I have something to teach next week???
That was my introduction to teaching. I received the phone call on Thursday and they wanted me to move 1630 kms away ready to teach on Monday.
In hindsight, I probably should have said yes I can go there, but I need a week to pack up my life to move so far away.
As some of us teachers are heading into the classroom for the very first time, I thought I'd share some of the mistakes most first-year teachers make, and how to avoid making those mistakes too 🙂
Mistake #1 first-year teachers make – saying yes to everything
I thought as a first-year teacher that I had to say yes to everything. And as you saw it started with that very first phone call when I said yes to moving my life in the space of a few days.
And it pretty much continued like this for the rest of that first year. I said yes to taking on extra clubs after school, I said yes to being on 6 different committees, I said yes to helping to organize the school fete and on and on it went.
So by the end of the first term, I was completely exhausted, overwhelmed, and didn't much fancy returning to teaching in term 2.
But, my Mum, with all of her words of wisdom told me, "Lindy you know you can say NO. You don't have to do everything!"
And of course, you know she was right. I started saying no (ok not all the time, but some of the time), with the first no being to the permanent accommodation I was offered in the town. And the fact that I said no didn't impact on anything in my teaching career, but I did get a much better house
Mistake #2 first-year teachers make – saying they don't need help
Of course, as a first-year teacher you want everyone to think that you have it all together, you're doing great and keeping on top of it all.
But, if you're like I was and you are struggling, then ask for help. I must admit I did try asking for help after about 5 weeks of teaching. But it didn't quite go to plan.
I had a particularly challenging child in my class, I was isolated in a fibro shack in the school and as a first-year teacher, I was just struggling with planning and implementing lessons.
I reached out to my principal to ask for help, but I was told, "don't worry about it, you're doing a great job!" I didn't really know how to respond, maybe I was doing a great job….but now I realize that I needed some other supports in place to help me navigate that first year. An appropriate response would have been for the principal to organize a mentor teacher for me.
So if you feel like you're struggling in your first few years, then ask for help. If you're not happy with the response you get from your administration, then keep looking for help. Don't just ignore how you're feeling as it can have serious consequences later, as it did for me. Read this or this if you'd like to find out more.
Try reaching out to an experienced teacher in your school and ask them if they could be your mentor.
Mistake #3 first-year teachers make – thinking they must have the 'perfect classroom'
Oh yes, you read that correctly….in my first few years, I had to have the perfect classroom and the perfect learning experiences. I had to create all of my own ideas, that fully engaged all kiddies and I was definitely not going to use worksheets!
I wrote my own scripts when it was our turn for assembly, I spent weekends re-organizing and setting up displays in my class, I enlisted the help of my hubby to make props to go with my theme for the term and of course I could keep going.
But you know what….it's okay to sometimes have kids work quietly on a worksheet so that you can recharge and your kids can have time to internalize the learning.
And it's also okay to have your kids contribute to the learning space and how it looks. You don't need to have all of your perfect posters and displays around the class.
Most important…you don't need to reinvent the wheel. If you're having trouble teaching a particular concept, don't stress over it because a teacher has already been there and probably created the perfect thing to help you.
When I first started teaching there was not a lot online for teachers, I had to go to the educational store in the city and buy books from big publishers.
But now, you have so many wonderful resources at your fingertips. I do my best to share lots of ideas and support to help all teachers on this website. I don't want other new teachers to start their career the way mine did…
There are also online stores where you can purchase teaching resources, made by teachers for teachers, such as Teachers Pay Teachers. And of course, we love Pinterest to help find ideas too.
Summing up
I hope reading about my mistakes has helped you feel less worried about heading into the classroom.
But I'd also love to hear from you. What is your biggest worry about heading back to school? Or if you're an experienced teacher what mistakes do you see first-year teachers making?
If you're still after some resources to help you get organized for the year, then check out my Back to School Super Bundle. It comes with 11 different items (and 455 pages) to help you get organized and ready to go back to school.
And to support you on your teaching journey I've put together a pack of my top behavior management strategies. Use the form below to grab it now!
FREE Behavior Management Tips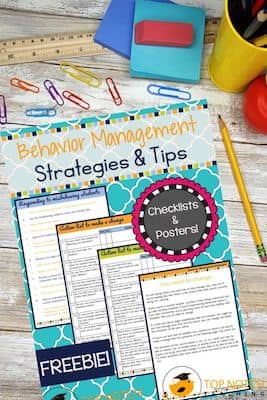 Subscribe to our newsletter to receive regular teaching tips and updates & get instant access to the free behavior management PDF: