How are you doing over there in front of your classroom? Or behind your computer screen for the nth hour of Zoom meetings? Or from your classroom via Zoom? Or trying to teach the students in your room and the ones at home trying to follow along as you try to teach kids in both places? 
How are you doing with people thinking you're a slacker who is using excuses not to go back to work? How are you doing with teaching through a mask, sanitizing everything extra? 
How are you doing transitioning from small groups and hands-on activities to keeping kids apart all day? Or transitioning from remote to in-person to remote again? 
How are you doing? 
In "normal" times, teaching stress and burnout are real and common. And these times are demanding so much more of us. We need to watch for teacher burnout—and take steps to avoid it.
Signs of teacher burnout 
Do you still have days (or at least moments) when you love teaching? Do you still get excited when your students have a breakthrough? Are you still happy to see them at the start of the day? Do you find yourself trying to find a great way to teach a new concept? Or are you just worn out and cynical? We all have days when we feel cynical, but if it's all days or most days, it's a sign of teacher burnout. 
Another sign that teacher stress and burnout are getting to you is exhaustion and sleep issues. I know there's a lot going on right now, but lack of sleep makes teacher stress (and any other stress worse). If you feel completely wiped out and / or are having trouble sleeping, it could be teacher burnout. 
And then there is how you are doing your job. Do you find yourself forgetting things? Feeling ineffective? Taking longer to do things that you usually do quickly? These are signs that work is a struggle and teacher stress is getting to you. 
You'll find more signs of teacher stress and burnout—along with steps you can take—in the free poster. You can grab it by filling in the form below:
FREE Teacher Stress Poster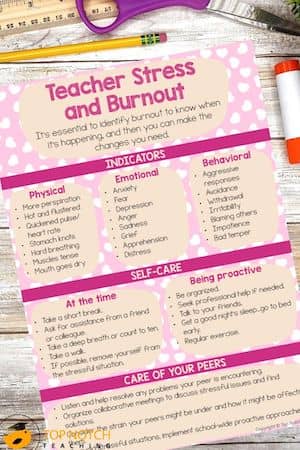 Subscribe to our newsletter to receive regular teaching tips and updates & get instant access to the free PDF:
3 tips for avoiding teacher stress and burnout
So what can you do? First of all, if you are starting to notice signs, don't wait to do something. Stress can build quickly to teacher burnout, and the sooner you address stress, the easier it is to break the stress cycle. Here are three things you can do. 
1. Don't try to do it all. 
You can't do everything, though sometimes it may feel like you are being asked to. Practice saying no to things that drain you. Depending on what you need, ask for help from other teachers, administration, parents … Think about what you can let go of. 
And you don't have to recreate the wheel when you need resources. Done for you worksheets, games, assessments and more? Say yes to those. They save you time and make life easier and let you spend your energy on other things. And to make it even easier, What if you had a place to go to for done for you classroom resources at your fingertips? Even better. Join the Top Notch Teaching Members Club for downloads in phonics & literacy, math & science, physical education & health, PLUS classroom management tools and more teacher self-care >> https://topnotchteaching.com/members/
2. Talk about the problem. 
Instead of feeling more and more alone in your stress, talk about how you are feeling and why. Are you overwhelmed because you are trying to create a new way of teaching amidst frequent changing requirements? Or being burdened by new responsibilities? Or feeling unsupported by administration? Or a sense that you are expected to be available all the time? 
Simply talking about the fact that you are struggling can be a first step. And having somebody empathize or validate your feelings can help. Identifying causes of stress can help you along with whoever you talk with to look at possible solutions. 
In addition to talking about the problem, sometimes it helps to talk about anything else. Talk to a friend who always makes you laugh. Catch up with people about a shared interest outside of teaching. Give yourself permission and time to enjoy something fun. 
3. Take a break. 
I don't know a single teacher who doesn't stay in the school long after students are gone to get things done or bring work home. And if you are working from home, it may be even harder to separate work from home time, especially if you don't have time to communicate with students or parents during a new type of school day. But you need a break. 
Take a weekend off. Turn off notifications on your phone. Don't check email or whatever parent-teacher communication tool you use. Spend time off line. Get outside. Connect with family or friends. You not only deserve it, you need it to avoid teacher burnout. 
Teacher burnout isn't a given, but it's time to take care of teacher stress before it gets to be too much. 
Get your Teacher Stress and Burnout poster with tips here: 
FREE Teacher Stress Poster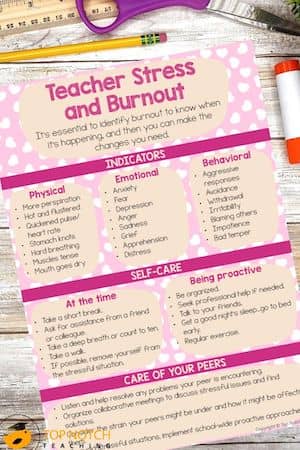 Subscribe to our newsletter to receive regular teaching tips and updates & get instant access to the free PDF:
And then take a step to reduce your stress by lightening your load by joining the Top Notch Teaching Members Club.