Are you running on coffee and sugar? Let's talk about teacher self care, because teacher burnout is real. Teacher work life balance is essential — but it's easy to skip it or let it get pushed out of our schedule. 
Know the signs of burnout — and what you can do in the moment, and better yet, proactively!
Get your Teacher Stress Poster here with tips to help you and colleagues! 
FREE Teacher Stress Poster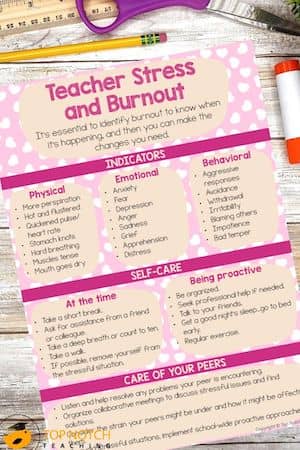 Subscribe to our newsletter to receive regular teaching tips and updates & get instant access to the free PDF:
Self care takes a lot of forms. Some are quick and simple to implement. Others take more time but are worth it to help you recharge. 
Start with the basics. Sleep, hydration, nourishing foods, and movement are the most basic forms of self care, and they are often the first to go when things get busy (that's always, isn't it?). If adding all of these back in feels like a lot, start with one. Bring a water bottle to school with you to stay hydrated. Batch cook on the weekend and pack lunches for the week. Turn off your phone an hour before bedtime and make yourself turn in. Take a walk before school or right after, or sign up for a class. 
And remember, when you take care of yourself, you feel better and can do all the things, including teaching, that matter to you better. 
3 teacher self care tips
The new year is a great time to assess what's working and what isn't and to set new goals. What do you want to achieve in the new year, in your classroom, and in your life? Whatever it is, taking care of yourself is going to help — and focusing on the things that really matter to you can be inspiring and energizing. 
1. Reconnect with why you love teaching. 
One way to fight burnout is to get excited about what you are doing. You went into teaching for a reason, but sometimes the day to day can wear you down. What do you love about teaching? What parts still light you up? How can you bring more of that into your teaching life? Or take time to notice the parts you love instead of taking it for granted.
2. Make time for what recharges you.
What do you do for fun? What energizes you? If a spa day does it for you, that's great, but maybe you need something else to recharge. Try one of these ideas: 
Get outside. Take a hike, sit on the beach, go for a run, play with your kids.

Snuggle … with a kid, a partner, a puppy. 

Dance. Turn on your favorite music and dance it off.

Learn something new. Practice an instrument. Learn a language. Take a cooking or art class. Working your brain in a new way can be invigorating. 

Connect. Meet a friend for coffee or go for a walk or have a long chat on the phone. Reach out to someone you haven't seen in a while. 

Engage in a hobby — work in your garden, play music, do puzzles, read … whatever lights you up. 
Think about what works for you. Make time for that, no guilt. Build in some good blocks of time, but also look for ways to work in a few minutes throughout every day … a quick hug of your kid, a one-song dance party, stepping out the door and turning your face to the sun. Think of that as micro teacher self-care and pair it with some longer sets of self care. 
3. Balance classroom and personal life. 
Teacher work life balance will never be perfect, but when it's really out of whack, stress tends to run high and burnout is more likely to happen. 
You need people to connect with in your personal life — and in your professional life. If you are looking for ways to connect with other teachers, join us in the Top Notch Teaching Community on Facebook. Get ideas and inspiration and have people to talk to about teaching!
Another way to add in more balance is to simplify. You don't have to create everything from scratch or spend hours finding what you need. You'll find lots of resources in the Top Notch Literacy Club. 
You know the importance of self-care for teaching. Why not reset for the new year and commit to more self care? Each little step makes a difference. 
FREE Teacher Stress Poster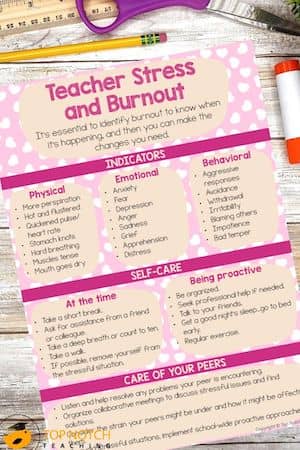 Subscribe to our newsletter to receive regular teaching tips and updates & get instant access to the free PDF: