As a teacher you have many challenges that you face daily, from coping with stress, to implementing engaging activities and even how to best set up your classroom. Whether you're a new teacher, experienced teacher or even a support teacher you each have your own struggles to get through.
When you sign up for email updates from me, one of the first emails I send out asks you to share with me some of your biggest struggles. I read every one of these emails and I keep note on what you are struggling with the most at the moment.
From what you have been sharing with me, there are 5 main areas that new teachers seem to be struggling with the most. These are also some of the areas that experienced and support teachers are struggling with as well. They include:
Coping with the stress of being a new teacher;
Implementing engaging activities and/or games for reading and math;
Catering for students with disabilities and specific learning needs;
Establishing effective classroom management; and
Having an organized classroom.
I know at times it's hard to find the time to read yet another article, that is why I've pulled together my most popular posts to help you with these struggles.
1. Coping with stress
Managing teaching stress and burnout can be quite a challenge. In the article Tips To Avoid Teacher Stress and Burnout I share with you my 5 top tips for coping with teacher stress and avoiding burnout. You'll also find a free poster that can help you cope with stress and burnout. The tips include:
2. Engaging activities for reading and math
Okay so this area has 2 ideas: reading and math. I've written many articles about both areas, but the most popular math post by far is 70 Cool Math Games. As the title suggests this post is the ultimate round up of cool math games. The games are also sorted into grade level, so it's easy to find the games that suit the level of your kids.
Teaching reading is probably one of the most talked about aspects of teaching. There is much research into how to best teach reading, and over the years there have been many inquiries into literacy education, yet little to none of the recommendations are ever implemented. That's probably a post for another day.
The one thing I do know is that to teach reading effectively you need to be using a structured synthetic phonics program. That is what the research is consistently telling us works best.
As a new teacher you may have learnt a little bit of phonics at University, but you probably still don't have a solid grasp on the best way to teach reading. I know I didn't as a new teacher. My article How To Teach Children To Read has been extremely popular, which tells me teachers are craving a better way to teach this vital skill.
3. Catering for students with specific learning needs
Not surprisingly, the post that is the most popular for helping students with specific learning needs is How To Help A Student With Dyslexia Learn To Read. In this article you will find many of the strategies I use to teach reading to students with dyslexia. These strategies are also effective in teaching reading to all students.
4. Effective classroom management
I think one of the most difficult parts of being a teacher is the classroom behaviour management. This article describes the 5 most effective strategies that I have successfully used in my class to assist with the classroom behaviour management.
5. Classroom organization
I think that to feel in control of your class, you need to be organized. There are many ways you can get organized in your class and over the years I've written many articles sharing organization tips and tools that I use to help me. But the most popular post on organization is Where Can I Get A Teacher Planner?
I have tried so many planners over the years to help me stay organized. And it seems you are also on the hunt for a new planner to help. In this article you will find links to some of the many planners available; some that I have used in the past and also the one I'm currently using.
Summing up
If you're a new teacher and you've also been feeling overwhelmed and stressed, then I'm here to help and support you.
I know what it's like being a new teacher…..the excitement…..the trepidation…..the nerves…..and I also know the lack of support provided to new teachers.
Many new teachers are told to either sink or swim…..that was certainly the case for me!
But I don't believe new teachers should be treated like this. New teachers should be nurtured and supported and provided with all of the opportunities to not only succeed but to THRIVE.
And to support you on your teaching journey I've put together a pack of my top behavior management strategies. Use the form below to grab it now!
FREE Behavior Management Tips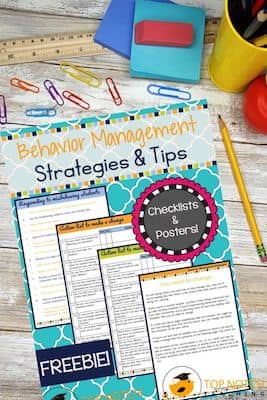 Subscribe to our newsletter to receive regular teaching tips and updates & get instant access to the free behavior management PDF: